Matterhorn Peak — Page 2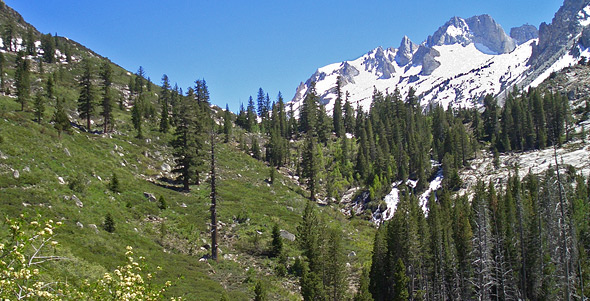 Mountain Meadows
After a series of forested switchbacks that bordered Horse Creek, I gained a saddle, and the canyon opened, revealing a glorious mountain meadow.
The Sawtooth Range rose majestically in the distance, and I found myself tempted to break into song—the Hills are Alive here, indeed. I was beginning to wonder, however, when I would reach the snow. After all, this was supposed to be a skiing adventure, not just a sightseeing foray.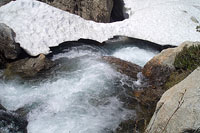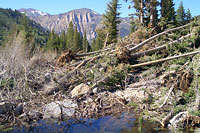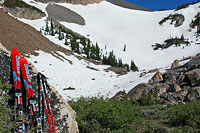 The trail meandered alongside Horse Creek, occasionally dipping in and out of small forest glades. Snow began to appear in patches near the creek, some forming partial snowbridges across the water.
I was pleased to be on a well-maintained, easy to follow trail—another perk that is all too rare in the Southern Sierra. It was therefore something of a shock when the trail suddenly ended in a giant pile of avalanche debris.
This was a most unwelcome development, especially since I had skis on my back. The trail looked utterly impassible.
Not wanting to try to climb a 20' high pile of loose trees and branches, I crossed the creek and made slow progress on the rough talus away from the debris.
This made for a challenging sideshow, easily adding half an hour or more to my travel time, but eventually I got myself safely back on the other side of the creek, back on the trail.
Soon after that, patches of snow began appearing on the either side of the drainage. I climbed perhaps 500 vertical feet higher, beneath a broad snowy slope.
This looked like a good place to stop. From here, I could snap into my skis tomorrow and skin up the rest of the way. With much pleasure, I dropped my pack and began scouting for a good place to pitch my tent.