Matterhorn Peak — Page 3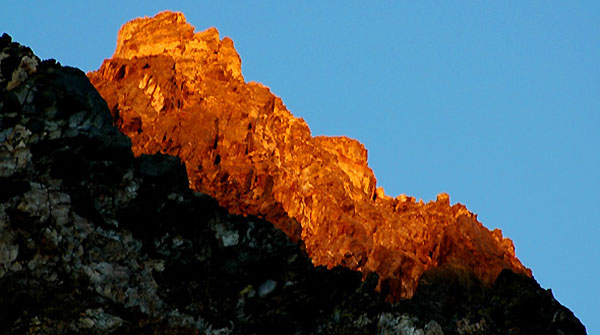 A Night at High Camp
As the sun begins its journey beyond the horizon, shadows lengthen, and the wind picks up. I wander about camp, taking pictures and sipping tea.
Such quiet moments are priceless to me: when there is nothing to do but wander about, find a fine rock to sit upon, and bask in Nature's serene majesty. There is also the anticipation of tomorrow, and the skiing that lies ahead.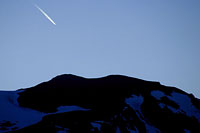 Time passes slowly.
I set a pot of water on the stove, ready for another cup of tea.
A jet streaks overhead. The wind grows stronger. It's going to be a breezy night.
One by one, the surrounding peaks go dark, until the sun's color remains on only one small spire. As I watch, sipping hot tea, the peak's color intensifies, glowing orange, then red, and then it's gone, and the day settles into night.