Matterhorn Peak — Page 4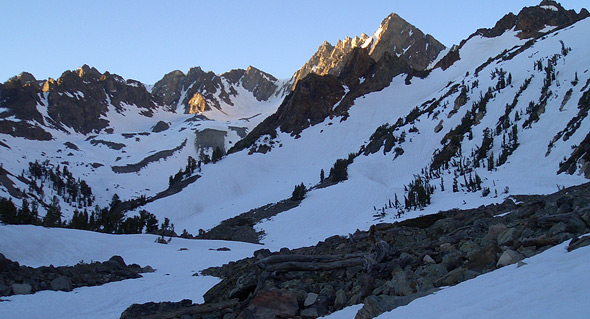 Horsecreek Valley
I awaken just before the sun rises. I've placed a thermometer outside my tent to see how low the temperature dropped overnight. The reading is a disappointing high 40's, but I'm hopeful the snow at higher elevations has frozen.
Despite the mild night, the snow beside my tent is firm, crunching reassuringly beneath my boots. I'm using new equipment today: Garmont Mega Ride A/T boots, at a weight savings of nearly four pounds versus my alpine boots.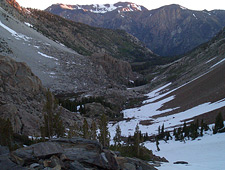 Climbing in crampons, I notice and appreciate the weight savings right away. But I'm concerned that the boots are too short for my feet. My toes are getting jammed.
My planned route briefly remains in the Horse Creek Drainage, ascending the broad snowfield over my campsite. I'll need to traverse west at some point to get to Matterhorn's Drainage.
As the sun appears, the wind quickly rises, pushing squarely into my face, as wind always seems to. This constant headwind slows my ascent, but I know I've started early enough to get to the top of the ridge while the snow is still in good shape. When I reach the next saddle I'm concerned that I may have made a mistake in climbing so far to the east. Ahead of me stretches Horsecreek Valley, with its own plentiful ski touring possibilities.
While it's tempting to try one of the many enticing routes ahead, I want to get back to Matterhorn Peak. I see two possibilities: I can gain a rocky ridge to my immediate right, or climb up a steep snowfield immediately ahead, with a tricky traverse toward the ridge line.
That ridge concerns me. I've no idea what's on the other side of it, and if it's a cliff band, I'll be hung up, looking down at my ski descent with no way to get to it. Nonetheless, I decide to climb up the rocky ridge, following snow lines as far as possible upward. Hopefully, the ridge line will put me back on route.