Matterhorn Peak — Page 6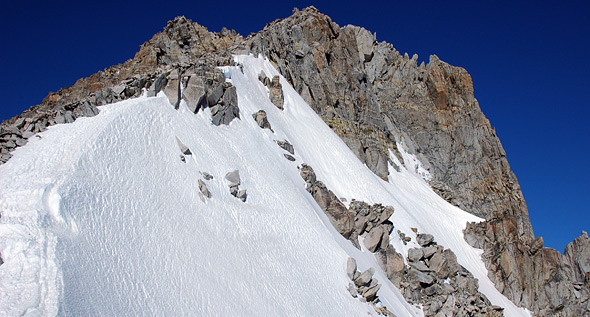 Descent
The wind is getting annoying. There's no possibility of wind-loading today to create any avalanche hazard, but constant buffeting confuses my sense of balance.
It's 9 a.m. I'd like to make the scramble up to the summit of Matterhorn Peak, but accessing the top from my position involves traversing over rough ground. I see little evidence of a trail. And the wind doesn't encourage loitering.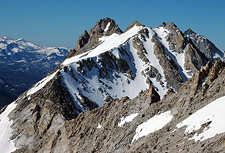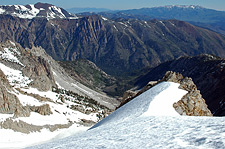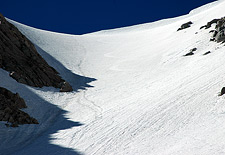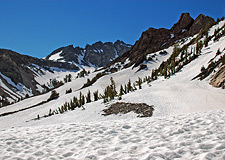 It's hard not to be impressed with the view. The surrounding terrain looks terrific, with numerous chutes and high-altitude snowfields just waiting to be skied.
One could easily spend an entire season here and barely scratch the surface of the ski touring possibilities.
From where I'm standing, the East Ridge Ramp rolls off nicely, disappearing from view.
It's a great way to start the day, nerves a little jangley. The snow is hard and crunchy. A little softer would make things easier, but the wind isn't going to allow that—not for a while, at least.
I'm ready to ski.
I snap in to my skis, taking great care not to lose a pole to the windstorm, and then I traverse into the broad top of the ridge, bouncing a little, trying to get a feel for the conditions.
The steepness keeps asserting itself—this is a great little run!
I can't help but smile as I lay down turn after turn, aggressively anticipating the hill with my upper body.
The East Ridge Ramp turns out be a terrific place to practice your steep-craft, with just the right mix of angle and safety.
Soon—too soon—I've reached the bottom of the steep ridge's face.
I look back, admiring my handiwork. But there's still quite a bit of skiing to be had. I traverse back into Horsecreek Basin, working my way beneath a cliff band. As the slope's aspect shifts more easterly, the snow softens dramatically. The skiing is sloppy: mashed potatoes.
Smallish sloughs peel away beneath my edges, suggesting I get a move on. I wind my way down through several cliff bands, feeling my legs burn from the work. Eventually, I essentially rejoin my ascent route, though I'm a bit higher up the valley. In contrast to the East Ridge's smooth skiing, the snow here is deeply sun-cupped, making for a comical schuss back to the saddle above camp.