Matterhorn Peak
Skiing The East Ridge Ramp on California's Matterhorn
MATTERHORN PEAK, CALIFORNIA — Surely this must be one of the treasures of the Sierra Nevada. Bridgeport's Sawtooth Range and the surrounding Hoover Wilderness is a lush Alpine wonderland.
Whether or not you agree Matterhorn Peak bears a likeness to its famous Swiss namesake, you'll find the terrain brimming with backcountry skiing possibilities. Among the many fine choices is Matterhorn Peak's East Ridge Ramp, a steep snowfield suitable for advanced skiers and snowboarders.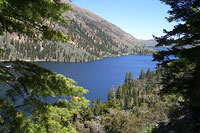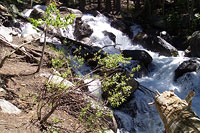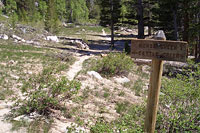 The angle of the slope will quicken the pulse, to be sure, but the broad runout onto the mini-glacier below adds a considerable safety margin.
Matterhorn Peak is accessible year-round via paved road, thanks to the Twin Lakes Resort. The easy approach, plus the immense terrain variety, make this one of the more notable descents in the range, and a solid starting point for the inexperienced but ambitious ski mountaineer.
In the aftermath of 2005's near-record winter, I decided to do a late season tour in the Matterhorn Peak region, with the East Ridge Ramp as my destination.
Twin Lakes is open year round, and the resort is an impressive reminder that if the fishermen don't yet own the entire Sierra, they will soon. God bless them, however, as they demand and get the paved-road access that backcountry skiers are denied.
You have to pay for parking at this trailhead, as it sits on a privately owned RV park. I packed up and hurried through the park, the skis on my back drawing stares from the barbecuing fishermen and their families who were basking in the warm lakeside sun.
The Twin Lakes area, and the Hoover Wilderness in general, is an especially scenic part of the range. Both lakes sit around 7000' in elevation. Their cool blue waters are surrounded by vibrant green forests that are quite removed from the dry stands of timber to the south.
Finding the trailhead, and then taking the quick westward-fork, can be a bit confusing, but once on-route, the trail climbs rapidly along a neighboring stream that's just perfect for cooling off. In winter, this area would be snowbound (the RV park remains open), allowing ski mountaineers to skin up right from the parking lot. Today, however, I didn't expect to see snow until 9000' or higher.