North Peak — Page 3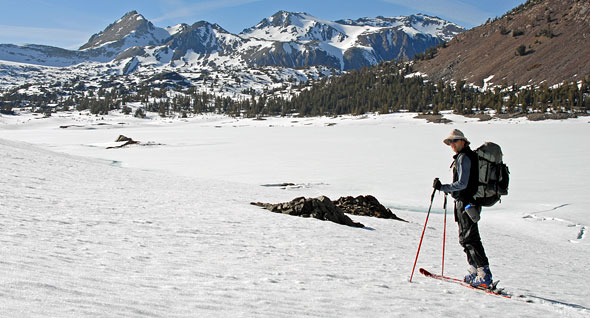 Saddlebag Lake
At present, Saddlebag Lake Road is closed. I'm prepared for this possibility: undaunted by my last two-wheeled escapade, I've returned with my bicycle.
It's roughly two and a half miles to the Lake from Highway 120 and Ellerly Lake, where I park my car. Annoyingly, there is just enough snow on the road to make biking impractical, while not being enough to ski. I manage to bike about a mile up the road before I'm forced to ditch the bike in a shrub, and then it's a slow trudge through occasional snowdrifts the rest of the way.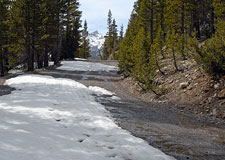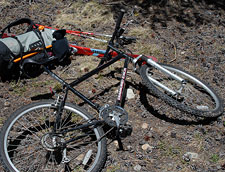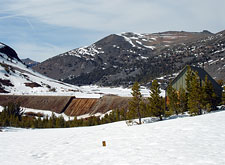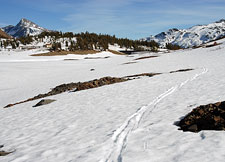 Nonetheless, I'm glad I didn't give up on biking. On a relatively flat road like Saddlebag, the bike makes travel immensely faster and easier.
Though I've memorized the layout of the drainages leading to North Peak, I'm soon confused by the road's eastward drift.
Two and a half miles stretch on and on, and I begin to wonder if I've somehow taken a wrong turn.
But no, it just takes a little patience, and then I see Saddlebag Lake ahead.
As if by magic, the landscape transforms at the Lake's boundary from green, dense forest to a snowy alpine vista.
The sight of so much snow in this year of drought brings a huge smile to my face.
I switch to my skis and free-heel alongside the frozen lake's western shore—no skins required.
This proves to be an efficient mode of travel, and soon enough I'm deep in this snowy wilderness, marveling at its beauty.
The scope of the rolling terrain is overwhelming.
I find myself having to stop and simply gawk at this backcountry skiing wonderland.
With conditions like these, I muse, backcountry skiing actually makes for a decent sport.
As I continue to glide forward, deeper into the backcountry, I can't shake the feeling of how strange it is to be here, alone in the wilderness. It's hard to explain. First of all, I am indeed far from home out here—far from the comforts and safeguards of my daily life.
That distance brings a profound sense of vulnerability. Yet stirred into the mix is also a sense of privilege and gratitude: to be able to do such things, to see such sights. Elemental forces swirl within and without as I continue to press on farther into the wild.