North Peak — Page 4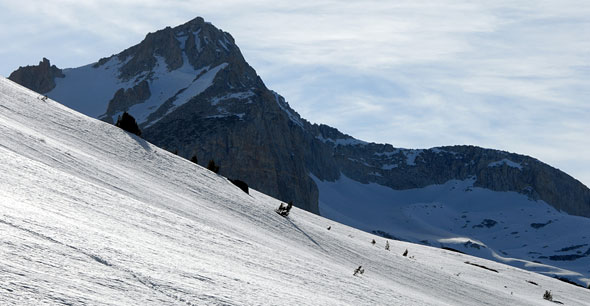 The Extreme Wilderness
Somewhere east of the Yosemite National Park boundary and the Conness Crest is the Harvey Monroe Hall Wilderness Research Area. I say 'somewhere' because maps of the research area are hard to come by.
Please note, however, that overnight camping is prohibited within the research area—wherever it is. Available information suggests the area includes the Conness lakes basin as well as the upper drainage below North Peak—in other words, exactly where the best camping is.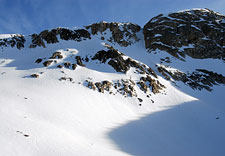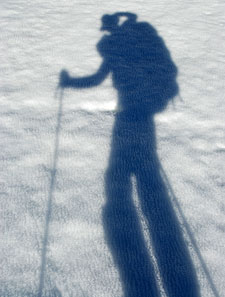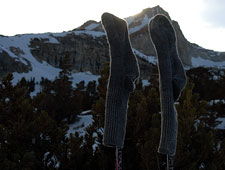 I generally try to obey the rules, at least when it's convenient, so I camp near Greenstone Lake, figuring that will keep me safely outside the restricted zone.
In any case, no angry scientists stop by to kick me out, so I pull off my boots, dry out my socks, and prepare to wait out the night.
It's amazing, looking around, how much good skiing surrounds me. The snow is well-consolidated spring corn with that sparkly-velvet look. I can't believe how smooth it is.
This evidence stands in direct contrast to recent reports I've received about the Tioga Pass area.
Along with the drought came unusual north winds this season. These winds were especially cruel to the Dana Plateau, stripping away friendly snow and leaving only hostile ice and rock.
And so I've been worrying about the conditions on North Peak.
At least based on the immediate area, these fears appear unfounded. I predict tomorrow will easily be the best skiing of the season for me.
I make my camp on a bed of sharp rocks overlooking the frozen lake. It's either that, or camp on snow. I decide to test the rocks versus my Thermarest Pad's durability (note: the rocks win).
As the sun sets behind the jutting rock of North Peak's eastern escarpment, I settle into my sleeping bag, thinking of the day ahead.
What will I encounter in the North Couloir, I wonder?
I vow to be cautious tomorrow. I am traveling solo, after all.
The problem is, I know myself. If something can be skied, I'm the kind of person who'll want to try to ski it. This attitude tends to make for excellent stories and photographs—but it also tends to confer a great deal of risk. In the past, I dealt with that risk in that most common of ways: I ignored it. Now, with more time and experience under my belt, I find myself having transformed into an odd, contradictory creature—an informed extremist, if such a thing exists.
I have come to appreciate how fragile and precious life truly is. This reality is simply not possible to adequately express (but easy, I think, for any father or mother to understand). Of course there is also another, darker truth about life. And this the Extreme Skier instinctively knows: at any moment, life can be snatched away, even while you're sitting comfortably on your sofa. Though this is no justification for taunting the Reaper, it is a potent argument for living rather than hiding; doing what you love, rather than fleeing what you fear.
And between these two irreconcilable poles, I try (not always with success) to find a point of balance without falling off to either side.