North Peak — Page 7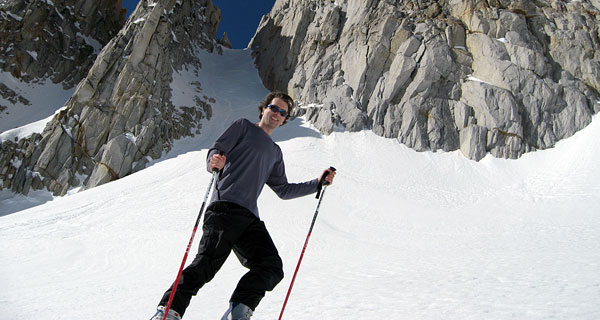 The Way Home
Smooth, flawless corn snow coats the glacier in North Peak's northeast cirque. I'm so delighted with it I ski blissfully past my exit to a dead-end above a cliff band.
That costs me fifteen minutes of hiking back up to escape the Cirque, but I couldn't care less. I'm floating on that jangly rush of endorphins that comes from skiing the super-steeps. Back on track, it doesn't take long to reach my campsite, where I pack up the gear and chow down a PB&J sandwich.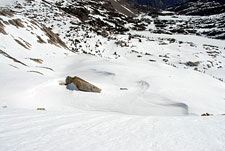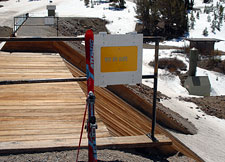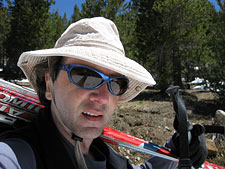 Hmm...are my hands shaking?
After I pack everything up, I enjoy a tranquil tour back to Saddlebag Lake.
I glide alongside the shoreline, steadily putting distance between myself and North Peak.
My first ski tour in the Tioga Pass region has been a doozy—maybe the best skiing I've ever had in the California Backcountry.
Issues of ice aside, the snow has been much smoother than I had any right to expect.
On this weekend, at least, Tioga's rousing steeps and rolling terrain were coated with a velvety layer of spring corn that rivaled the best groomers in-bounds.
And as a final bonus, instead of the usual Southern Sierra dry beater of a hike to the car, I stay on skis all the way to Saddlebag Lake.
Once I hit the road, I'm forced to hike for a mile or so, but then I find my stashed bicycle.
I can't help but grin as I hop on the bike, still in my ski boots, and cruise down the road.
I'm back at my car in minutes, dropping gear all over the parking lot and pulling off my clothes.
A fisherman looks me over and then wades into nearby Lee Vining Creek. I wash my feet in the creek, which earns me a stony stare. Once I've finished washing up, I take a last look at the surrounding mountains.
2007 has been a dry, discouraging season in the Sierra, but what a finale this weekend has been! Tioga Pass did not disappoint—and I barely scratched the surface of this extraordinary region. Immediately to the west is Mount Dana and Yosemite National Park.
This wasn't the year for Dana, unfortunately, but next season can't be too far off. Mount Conness and the Conness Glacier is also waiting nearby. And there are two more couloirs on North Peak's north face worth my attention. Yes, I can see it now: I'll become one of the watchers next year, eagerly anticipating the Opening of the Road. I can hardly wait.