North Peak
Skiing North Peak's Challenging North Couloir
NORTH PEAK, CALIFORNIA — I want to push myself. It has been a quiet season: a few fine tours, to be sure, but no Defining Moments. That's about to change.
In summer, North Peak's North Couloir is a classic ice climb, requiring ice tools, steel crampons, screws, a rope, and a belay partner. But today, spring snow covers the ice, allowing me to solo the Couloir with skis on my back. Yes—I want to push myself. And today, North Peak will push back.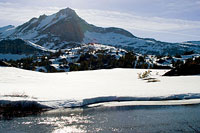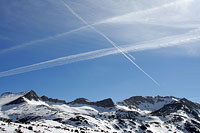 North Peak is not one of the Sierra's more remote mountains, but it does tend to fall off the map when it comes to notoriety.
I'd never heard of the peak until late this winter, when I saw a report claiming the 'North Peak/Conness Area' had snow. In a year of near-record drought in the High Sierra, that was more than enough to grab my attention.
But North Peak, I soon discovered, is one of those mountains that is conspicuously absent in most California backcountry skiing discussions. In 50 California Ski and Snowboard Summits, author Paul Richins mentions the peak only in passing.
But the mention did peak my curiosity. In the Mount Dana chapter, Richins writes, "The north side of North Peak contains three extremely steep chutes that are popular ice climbing routes in the fall when the snow turns to ice." That sounded interesting.
For more information on North Peak, I turned to a climbing guidebook by John Moynier: Climbing California's High Sierra. Moynier provides a healthy section on the Mount Conness area. He describes North Peak's north couloirs as Class 4-5 ice climbs. For skiers, he adds, "These gullies also present excellent extreme ski descents in the late spring."
It was hard not to notice both authors were labeling North Peak's skiing with a word they did not toss around lightly: Extreme. I didn't know whether or not North Peak's north gullies deserved the use of the always-controversial E-Word, but I knew a way to find out. I began packing my gear...