Ontario Peak Traverse — Page 2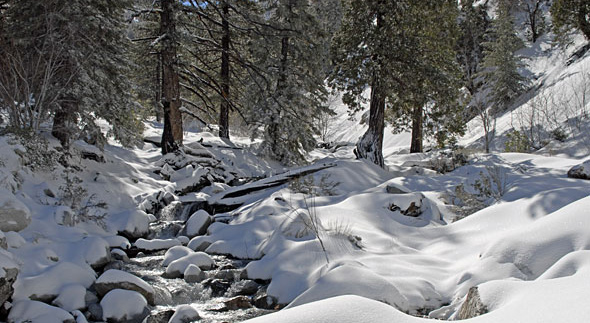 Creek Crossings
About a mile up the trail, I pass the Cucamonga Wilderness sign, which notifies backcountry travelers that a wilderness permit is required for all users beyond this point.
As is typical in the San Gabriel Mountains, the terrain here is rugged, and progress is difficult. I've been scouting the north aspect of Icehouse Canyon, looking for a possible alternative route to Ontario Peak via Falling Rock Canyon or Sheep Canyon, but the prospects do not look promising.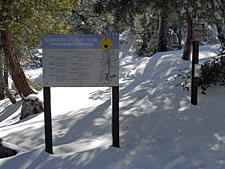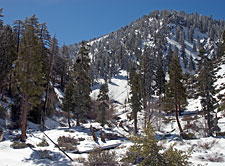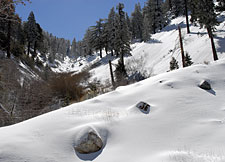 The north side of the canyon is steep and cliff-banded.
Travel at the bottom of Icehouse Canyon isn't much easier, and a new challenge develops as numerous creeks and tributaries feed into the same drainage.
I try to plan my route to minimize the number of creek crossings, but there's only so much I can do. I am forced to repeatedly cross back and forth through this section of the hike.
Luckily, the hiking trail appears here and there beneath the snow, pointing the way to easier crossings.
For my troubles I am rewarded with increasingly fine views of the surrounding area, including Mount San Antonio (Mount Baldy) to the west, and the formidable south chutes of Telegraph Peak, to my left.
At this point, I'm a little unsure where Icehouse Saddle actually is.
The route ahead branches into two main canyons—but which one should I follow?
The easy solution would be to stop and pull out my topo map, but what fun would that be? I decide to angle right, figuring that will keep me on the high side of the ridgeline. As the slope steepens, I'm happy to leave the flats at the bottom of Icehouse Canyon behind. The higher I climb, the more snow I find, and the less I need to worry about the numerous creeks that are opening up.
With the many creek-crossings seemingly behind me, I now make good progress across the untracked snow. I skin up the southern branch of the canyon, not sure exactly where I'm heading, but liking the inviting open slopes ahead. I've traveled a long way already, with a long way yet to go, possibly 1500 vertical feet, possibly even more. I'm feeling hot spots along the backs of my heels—the result of covering those flat miles on skins.
I decide I'll attend to my feet once I make the ridgeline, which I estimate is 500' vertical or so above. It shouldn't take long to climb. Ah! The sun is shining. The wind is calm. I'm alone in my own private wilderness, skinning up into unknown country. Could anything be finer? From here, it looks like smooth sailing up to the ridgeline and the start of my traverse, proper.