Ontario Peak Traverse — Page 5
Ontario Summit
Gentle intermediate slopes roll off to my right as I traverse along the ridgeline to Ontario Peak. In contrast, to my left the ridge drops sharply toward the Los Angeles basin.
Numerous steep, small gullies descend southward through rugged cliff bands, though the snow is far too rotten to contemplate skiing. I enjoy skinning up this sharp backbone, stopping occasionally to peer southward over the edge and scout the rough country below. To ski any of it would pose a formidable question of access.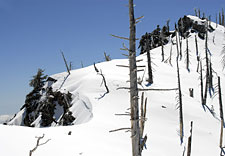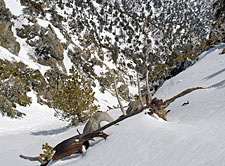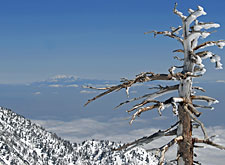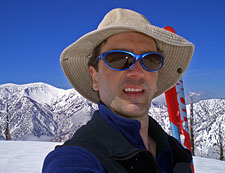 After all the climbing I've done today, dropping a thousand or more feet over the backside—and having to climb back up—is a withering proposition. I've about reached the limits of my stamina for the day, helped along by my epic struggles with the graupel.
Bighorn Peak recedes behind me, though the ridge seems to lengthen as I continue my traverse.
I'm traveling across outstanding touring terrain: a vast playground of rolling hills and valleys. I don't know much about the fire (or fires) that cleared out the forest along this ridge.
Wildfires are common in Southern California, due to the combination of wet winters, which build up fuel, followed by the bone dry Santa Ana winds of spring and fall.
Like the Big Burn at Colorado's Snowmass Ski Resort, the fires here have opened up the skiable terrain, offering inviting lines in every direction.
Were it not for the considerable access difficulties, this ridgeline would easily be among the San Gabriel range's best ski touring regions.
The first stop along the way to Ontario Peak is Peak 8400, a sharp little spire pushing up along the ridgeline.
Once again it's extremely tempting to begin skiing from this summit. Below me are the broad upper slopes of Sheep Canyon and Falling Rock Canyon.
Though I know first-hand that these canyons close out as they drop into Icehouse Canyon, they sure look inviting from above.
Peak 8400 seems to have a collection of dramatic southeast chutes, and I can't help scoochting over to the edge to peer down a few of them.
The terrain here is very steep: possibly 40 degrees or more. Most of these chutes wind down through cliff bands, such that you can't see whether or not they're continuous from above.
If you've got a rope and an adventurous spirit, any of these south-facing lines would make for quite a ski descent.
From peak 8400 it is a short traverse around to the next summit, the broad, rounded hump which I believe to be Ontario Peak.
Directly west is another, final summit, a sharp rocky spire that looks to be exactly as high as the round hump. So which is it?
I'm confused enough to pull out the topo map. Looking at all the wavy little lines, I make a command decision: I've reached my destination. I don't have the willpower to traverse any farther. Later, perusing the map more carefully from my home in the basin below, I'll realize that the spire to the west is actually Ontario Peak—though both summits are listed at the same elevation, 8693.
No matter. For now, there are a new set of views to enjoy, including Palm Springs and Mount San Jacinto in the distant east. I've long coveted the sheer north face of San Jacinto, though I always seem to get sidetracked by the much closer San Gabriel Range. Looking in the opposite direction, I see the striking east face of Mount Baden-Powell (named for the founder of the Boy Scouts), tinged blue by the fog and haze.
Baden-Powell's east face is another one of those dire San Gabriel lines that features top-notch steeps, avalanche hazard, and abundant rockfall. The north side of Baden-Powell also features high-quality steeps, including a few lines I've sampled myself, and—you guessed it—more rockfall potential. Mount Baldy is of course also visible. The view from Ontario Peak showcases the diverse terrain along Baldy's southern flanks.
I take the opportunity to scout a new line from West Baldy's south ridge: a big, classic chute that drops a good 2000' vertical or more. That's probably enough sight-seeing for the day. I take a last photo of Mount Baldy and Me, and then it's time to get ready for the descent.