Ontario Peak Traverse — Page 6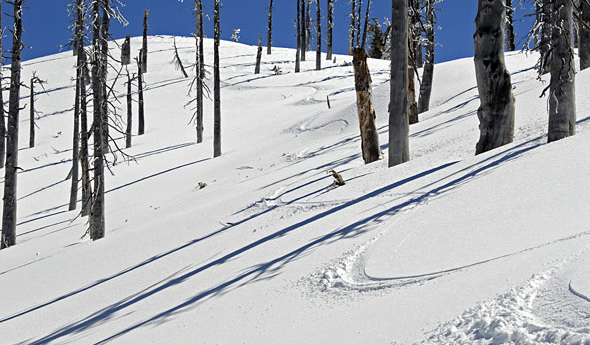 Bliss
Nearly 4000 vertical feet and seven hours after I started, it's time to ski, and I'm faced with so many good choices it's hard to know where to begin.
A 180 degree panorama of wide open glades awaits, all of it covered with light, untracked powder. It's enough to make me forgive and forget the graupel wars. I take off slightly westward, and as soon as I do I'm overcome with bliss. Skiing this good seems to defy what ought to be possible. Now the graupel is my ally, singing beneath my feet.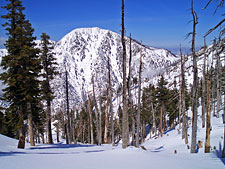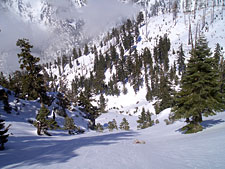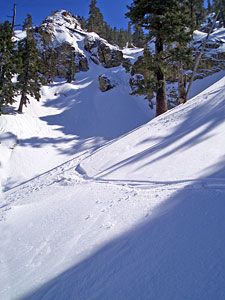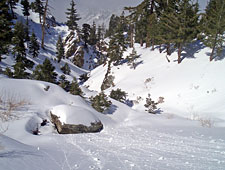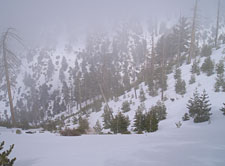 Each turn is so perfectly, implausibly smooth—and there's at least 2000 feet of good skiing to go. I ski the upper slopes of Falling Rock Canyon, then begin veering back toward the east, and Icehouse Saddle.
My intention is to avoid all the nastiness below by reconnecting with my original route near Sheep Flat and Lost Creek. This allows me to sample the widest variety of terrain beneath Ontario Peak and the ridgeline.
Telegraph Peak rises like a beacon in the distance, helpfully keeping me on route.
As I descend, the terrain gradually becomes steeper, and I know it's time to begin traversing across the canyons to avoid getting trapped below.
Yes, the snow begins to grow heavier at these lower elevations. This is Southern California, after all, and certain concessions must be made.
I shift my technique to accommodate the snow, feeling the burn now in my legs. The terrain remains quite lively as I cross these spirited gullies. Unlike the difficulties I've had crossing Mount Baldy's lower flanks, the terrain here is easy enough to traverse and descend.
That doesn't mean things are boring, however. The lower reaches of the canyons feature a fine collection of chutes, cliff, and gullies.
Fog begins rolling up the slopes of Icehouse Canyon, still far below, as I work my way through a spirited section near Shortcut Ridge. The gully I'm following begins to show signs of closing out, so I know it's time to traverse eastward once again.
After all the fun I've had today, I'm not in the mood for any unpleasant surprises. Still, let's ask the question: is there a more direct skiable route to the summit of Ontario Peak?
I think there must be, but finding it will take some doing.
First, crossing the creek at the lower reaches of Icehouse Canyon will be problematic, unless there's a bridge I don't know about.
Second, many of these side canyons are quite curvy, so you can't seem them in their entirety from above or below, and many end in cliff or waterfall sections. That means you'd need to commit a day to finding a viable route, with no guarantee of success. The smart course of action is probably just to hike the place in summer, and scout a route then.
I traverse out of this last gully (Delker Canyon, perhaps?) and finally see a broad slope leading down to Icehouse Canyon and my ascent route. The fog soon envelops me, providing welcome relief from the hot sun overhead. This last section proves a little tricky, mostly because of snow melt, but I'm able to stay on reasonable coverage all the way to the bottom of the gully.
I've been a little anxious about this last bit—will there be enough snow to stay on skis all the back to the trailhead, or will I have to hike out? The answer, thankfully, is that the fog has preserved enough snow to ski. I make a wild, crazy, semi-controlled descent along the Icehouse Canyon trail, creek-crossings and all, navigating boulders and thin coverage, passing occasional foot-hikers who look at me as if I've dropped from outer space...
Whew! What a day! 4240' vertical and 7 1/2 miles round-trip, according to my Topo software. This has been my first extended tour in the Cucamonga Wilderness, and I must say I'm impressed. The area is remote and beautiful. Travelers in this area need to be wary of the rough terrain at the lower elevations, but if you can climb to ridgeline above, you'll be rewarded with a backcountry skier's paradise, perched on the edge of the mighty Los Angeles Basin.