San Jacinto Peak — Page 2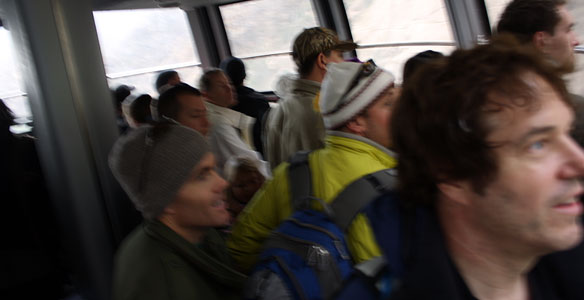 Cactus to Clouds
Our tram car is packed and the windows are fogged, limiting the view below. Still, what we can see of the San Jacinto Mountains' north facade is impressive.
From the parking lot, elevation 2500' we put on ski boots and enjoy a speedy vertical-mile boost from rainy Palm Springs Desert to the tram's 8516' Mountain Station and snow.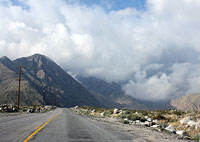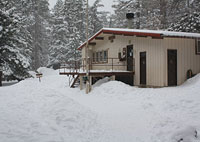 A purist I may be, but the prospect of climbing this technical route instead of gliding up makes your average Iron Man event sound like a tea party in comparison.
No description can due justice to the verticality of the tram's 15-minute ride: sheer spires of granite shoot up like massive, serrated teeth beneath the thin metal floor of our tram car.
That said, a very few nutcases do claim to enjoy climbing from desert to summit via the well-named "Cactus to Clouds" route.
And I myself in my more intemperate moments have contemplated climbing and skiing San Jacinto's legendary Snow Creek route—all ten thousand vertical feet of it—sans tram.
But not today.
Instead, some fifteen minutes later, just like that, Bill and I plus a gaggle of climbers, tourists, and sightseers arrive at Mountain Station.
Brilliant white clouds race overhead, bringing quick but fierce squalls of snow. The sun pokes out once or twice and retreats again. Bill and I scramble down a paved walkway to the snow and put our skis on, having been transported to a snowy winter wonderland for the modest fee of $22.25 per person, tax included.
Just ahead is the Round Valley Ranger Station, where we collect our required Day-Use Permits. That taken care of, we're all set: today's ski adventure is underway.