San Jacinto Peak — Page 3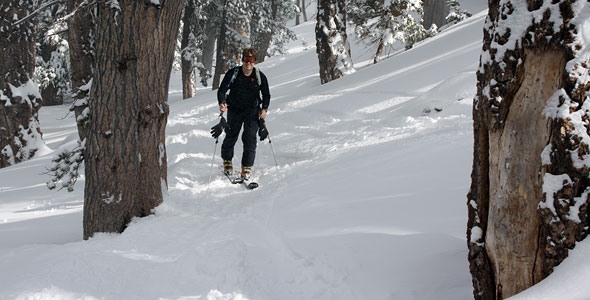 Round Valley
From Mountain Station, the terrain to the base of San Jacinto Peak is more Nordic than Alpine. We must cross a series of valleys that maintain a gentle but gradual incline.
So, over the valleys and through the woods we go. If there is a distinguishing feature to this part of the hike, it is how easy it is to become disoriented.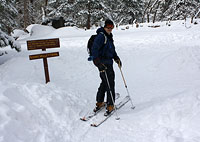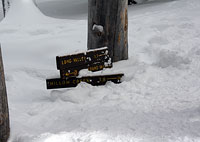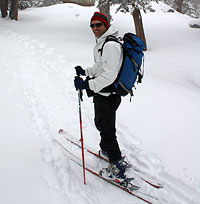 Brief patches of sun continue to alternate with heavy snowfall. San Jacinto Peak remains obscured by clouds—and trees.
The Peak lies a few degrees north of due west from the ranger station. The summer hiking trail to San Jacinto Peak, however, veers southwest, with a quite a few zigs and zags along the way.
Nonetheless, for now we've decided to follow the trail.
This confers two significant advantages: first, it assures us we won't get lost. And second, the heavily-traveled trail acts like a skin track, allowing far easier passage than pushing on own through deep, untracked snow.
Thanks in large measure to the presence of the Tram, Round Valley and the San Jacinto Wilderness is a high-use area even in winter. In fact, we regularly pass groups of winter campers hiking up or down from the peak and places thereabouts.
As for the snow, there is lots of it!
The San Jacinto Wilderness is giving us the red carpet treatment today: a deep, light blanket of powder in all directions that is putting quite a smile on my face. Bad memories of recent trips past are vanishing like morning fog over Santa Monica Beach.
I've got to tell you—this skiing on snow concept is looking like a mighty fine idea. I don't want to put the jinx on things by getting prematurely excited, but I've already got the tinglies and we haven't even done any skiing yet...