San Jacinto Peak — Page 4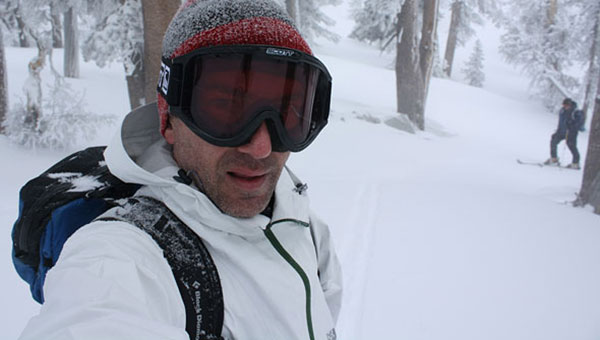 Up the East Face
Somewhere in the region of Tamarack Valley, our patience wears out. We abandon the easy but meandering hiking trail in favor of a more direct approach to San Jacinto Peak.
The weather has quite a bit more bite to it now. Driving snow pelts down from the sky with increasing vigor. Still, the whiteout lifts just enough to give us a glimpse of San Jacinto ahead—verifying that we are roughly where we think we are.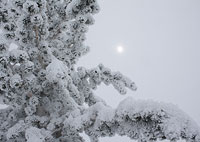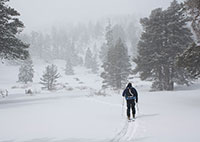 Our idea here is to skin directly up San Jacinto's east face, digging a pit somewhere above to assess avalanche hazard.
Perhaps a word about that here would be appropriate.
Much as I love to ski the backcountry in a blizzard, this is almost always an ill-advised activity. Conditions change so rapidly in storms—especially so when there is wind—that safe travel is often impossible.
Our saving grace today is the terrain: low-angle slopes that are too gentle to slide. That is not the case, however, with San Jacinto's much-steeper east face.
We feel comfortable on the east face today only because it is evident the coverage is too shallow to form dangerous slabs.
Tomorrow could be entirely different. Alternately, a few more hours of heavy snow could change everything as well. Do not take snowy travel lightly, even in Southern California.
Higher we go. The weather continues to deteriorate. I huddle in the shelter of a group of trees and pull my shell off to hurriedly put on more insulation. Unfortunately, this also covers my inner layers with a dusting of snow, making it likely I'll eventually get wet. Not ideal.
The wind picks up. I know we're close to the summit, but I don't know how close. San Jacinto Peak's 800 extra feet of elevation is feeling a lot higher than Mount Baldy's ten thousand today. I'm tired and cold. The allure of climbing high in a blizzard is rapidly fading.