San Jacinto Peak — Page 5
A Frozen Summit
San Jacinto Peak's summit at last! I had hoped to scout the top of the Snow Creek route to the north, but visibility in all directions is a wash: featureless white.
Without the constant effort of climbing, our bodies quickly begin to cool in the fierce wind. I sit in the snow and eat a quick snack, knowing that our stay atop San Jacinto will be brief.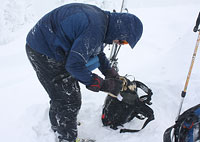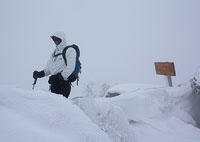 I can tell that my clothes beneath my shell are damp.
That puts me more than a little too close to the edge for comfort—but I know we've got a safety outlet a hundred yards away thanks to Franklin Delanore Roosevelt.
Bill, meanwhile, is even colder than me.
His saturated gloves are freezing through, forcing him to dig bare-handed through his pack in ripping winds for a fresh pair. Afterward, he tries unsuccessfully to warm his now-frozen fingers in dry but also frozen gloves.
Uh...it's time to get the heck out of here!
We snap into our skis and make a quick retreat to a stone shelter just below the summit. The shelter, built in the 1930's by F.D.R.'s Civilian Corps, is for hikers caught in storms—in other words, us.
Inside the shelter, we comment emphatically about the cold, punctuated with bouts of intense shivering. I've got a down vest in my pack which I put on. It helps immensely. And while the stone house is much appreciated, I find myself contemplating what might transpire were we caught outside right now without shelter and without the ability to ski down to warmth and safety.
We're both wet and cold. We've got a pair of lighters between us, but making a fire outside with frozen wood in screaming wind would be challenging to say the least. If needed we could dig a snow cave and at least escape the wind, but undoubtedly we'd both get even wetter. Realistically, neither of us is prepared to spend a night out there in these conditions.
Food for thought, eh?