San Jacinto Peak — Page 6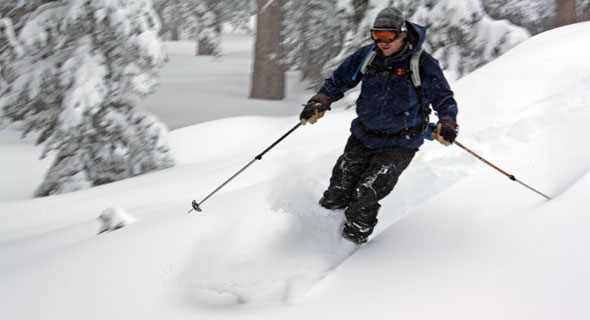 Skiing San Jacinto Peak
Here we reach that part of our report where ordinarily we must begin apologizing (or at least complaining) about skiing conditions of poor or abominable persuasion.
Not so today! There is a bit of unpleasantness above, as we navigate from San Jacinto's east face (which is too spotty to safely ski) toward the slopes below Jean Peak's northeast face. If we inadvertently veer southwest, we'll end up in Temecula—a.k.a. the opposite side of the mountain.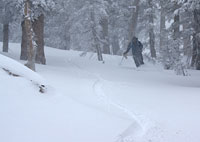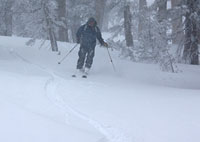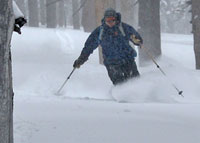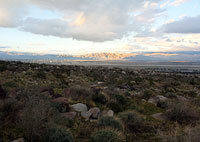 In the whiteout atop San Jacinto Peak, we're just not sure where we are, so we find a friendly band of passers-by and shamelessly ask for directions. Luckily, they've got a map.
That taken care of, it's time to ski.
Today's skiing seems outright pilfered from places more commonly favored by the powder gods.
The Sierra, perhaps? Colorado? Utah?
In my astonishment I keep saying to Bill, "It's like real skiing!"
Bill wholeheartedly agrees.
As cold-smoke powder swirls about me, I settle into an effortless rhythm of smooth, flowing turns.
Ancient powder memories awaken, transporting me across time and space to Big Days of ski years past.
This sensation—this floating, airy dance—there's really no way to describe it, is there? It is an unforgettable wizardry of snow and gravity that keeps us coming back, through good times and bad, for as long as our legs will carry us.
We enjoy a thousand vertical feet of sublime skiing through snowy forests until we rejoin the packed-out hiking trail. Here, the angle of Round Valley is too gentle to allow deep-powder gliding, so we ride the boot track like a toboggan run, careening wildly through the trees like the Banzai-youngsters we used to be.
What takes hours on foot takes barely a moment on skis. All too soon we see the Ranger Station ahead, and the tram beyond, ready to whisk us back down to Coachella Valley and the low desert. Bill and I say goodbye for now to winter snow and the lofty slopes of the San Jacinto Mountains. But we'll be back. Yes indeed, we'll be back...