Powder Gods are Smiling
Skiing San Jacinto Peak's East Face
SAN JACINTO PEAK, CALIFORNIA — It can be easy to lose faith. Yes, any one of Southern California's three massive ranges ought to offer outstanding skiing.
But toss in a few years of drought, a few too many days of dirt, rock, and (if you're lucky) ice, and a relentlessly sunny and warm 'subtropical' climate, and even the most hardened ski mountaineer can come to believe that skiing and Southern California just don't mix. And then comes a day like this...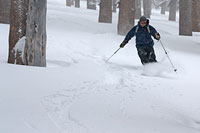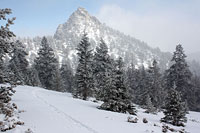 We are skiing light, flawless, untracked powder, floating as if on air through the forests and glades of Palm Springs' San Jacinto Wilderness.
Has it been a challenging season thus far? Yes—but with these turns, all is forgiven. A cold storm has blanketed icy and/or bare Southern California mountain slopes with three feet of snow and more.
Heavy rain, meanwhile, pounds the freeways and foothills in the Los Angeles Basin, creating all the usual calamities. Winter has returned to Southern California.
The plan today, given all the new snow and unsettled weather, is an exploratory look-see in the San Jacinto Wilderness. It's Sunday morning, and my skiing partner Bill Henry and I hit the Southern California freeway system at a reasonable 7:30 a.m., heading east to the Palm Springs Desert. From there, we'll take the vertigo-inspiring Palm Springs Aerial Tramway up to Round Valley and places beyond.
As for our ultimate destination, San Jacinto Peak's 10,804' summit is a tempting possibility. Though I've hiked the peak in summer, I've never skied it, but from past wanderings I know that much of the high-altitude terrain in the San Jacinto wilderness is gentle, low-angle fare, perfect for safe skiing in stormy weather—with certain spectacular exceptions, of course.