Skiing Snow Creek — Page 3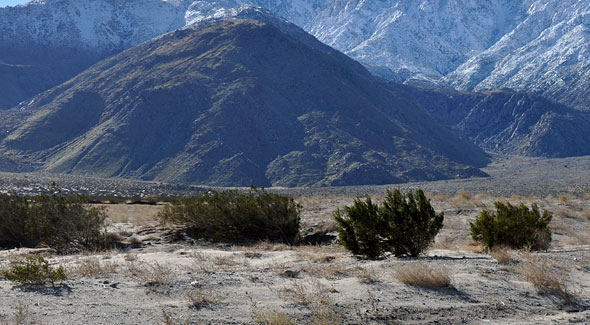 Alternatives
The Chockstone is gone. Ending a string of marginal winters in Southern California, 2010 is an El Nino year, bringing impressive snowfall to the local mountains.
Reports begin circulating that there has been enough snow on San Jacinto this year to completely bury the Chockstone. Until the snow melts, Climbers and skiers can pass this crux section of the route, with its technical climbing and mandatory rappel, without even knowing it exists.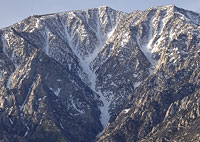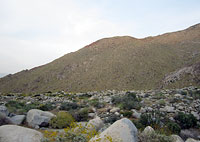 With the added temptation of excellent conditions on Snow Creek come more climbers.
Not long after that comes news the DWA is now employing electronic surveillance plus "ambushes" to catch trespassers.
This escalation of tensions leads some climbers to begin looking for alternatives to crossing DWA land. And, as it turns out, at least one such alternative exists.
From one of Southern California's ultra marathon-class hikers, I learn of the existence of a traverse connecting the upper Snow Creek drainage to a prominent ridge outside the eastern boundary of DWA's closure.
Though it adds nearly two extra miles of travel over rugged ground plus potentially an extra thousand vertical feet to the route, this east ridge traverse appears to be legal provided you first obtain a wilderness permit. It's far from certain how feasible the bypass actually is, especially for people coming down and carrying skis, but it exists. And this information is exactly the break I've been waiting for to launch my own ski attempt.
And so friend Dave and I find ourselves standing in the desert outside Palm Springs on a hazy Saturday morning, staring up at San Jacinto Peak's imposing massif. It looks...big. Defying the usual tricks of perspective, that wall of granite rising directly south of us is wholly intimidating. Dave and I carefully scout the proposed east traverse, trying to assess its viability.
The line appears to go—but it's just so hard to tell from the desert. The bottom section, scrambling along the ridge's knobby end, appears reasonable. But the traverse connecting the ridge to the actual Snow Creek gully and snow looks like it could be problematic. Still, we're committed to this idea of finding a legal way to ski the route. We drop a car along Snow Creek Road and head for the tram.