Skiing Snow Creek — Page 4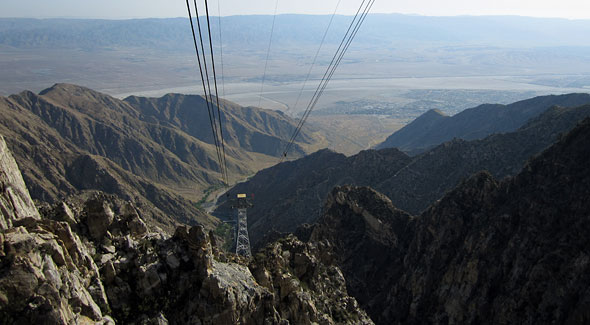 A Serene Menace
The Palm Springs Aerial Tram is typically an integral part of a Snow Creek attempt, used by climbers heading back down, or skiers—like us—heading up.
Purists should note Snow Creek has been climbed and skied in a single day by the hardiest of Southern California mountaineers, though not (to my knowledge) via the longer east-ridge approach and exit.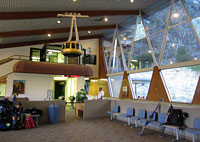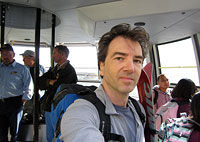 In any case, Dave and I are quite glad for the Tram's 6000 vertical-foot boost, which will get us from the desert floor to Round Valley in a speedy fifteen minutes.
We buy our tickets at Desert Station, elevation 2600', and soon we're rocketing upward fast enough to make the ears pop.
Every time I ride the tram up I am first of all very glad for its existence and secondly scared out of my wits.
The tram provides the best introduction I know to the San Jacinto Mountains' outrageous topography.
Slender steel cables carry us over a maw of serrated granite teeth both menacing and serene, as if aware all things human shall one day pass—but not today, let's hope.
Inside the relative safety of our little metal box, soothing music plays, and the cabin floor rotates about, ensuring a fair view is had by all.
When we reach the top we exit Mountain Station, elevation 8516', to a new world of green alpine forests and gleaming white snow. Dave and I fix skins to the bottoms of our skis and begin a leisurely ascent of San Jacinto's east face, heading due west across Tamarack Valley.
The snow on the east face is gorgeous: gleaming Spring corn that's as smooth as the best groomed run you could find. Maybe we should just call call this whole crazy thing off and ski these inviting slopes instead? Yes, the east face beckons, but today's objective lies to the north, I know, so I promise myself I'll come back before the season is done and this perfect snow is gone.
As I make my way upward, slowly crunching vertical toward San Jacinto Peak's summit, my thoughts soon return to that blasted DWA closure. I am excited by the prospect of finding a legitimate traverse that will avoid the matter entirely. But a worrisome thought occurs to me: if finding a fix to this seemingly intractable problem were that simple, wouldn't someone else have discovered it long ago?