Skiing Snow Creek — Page 5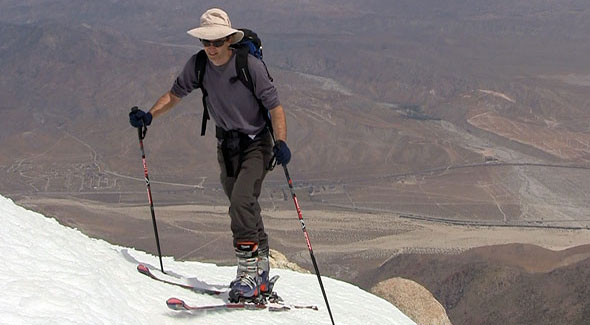 Juxtaposition
From the snowy summit of San Jacinto Peak, elevation 10,833', Dave and I can easily see cars and trucks cruising along Interstate 10 and windmills spinning in the desert 10,000 feet below.
No trick of photography is required to capture this wild proximity. Perhaps nowhere else on the planet are such disparate worlds found so close together. It is a mind-bending collision of landscapes—and somehow we intend to traverse it in its entirety today, on skis. Mostly.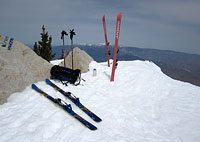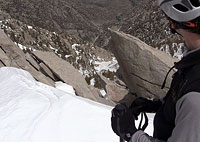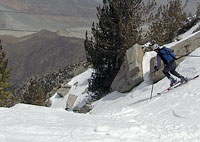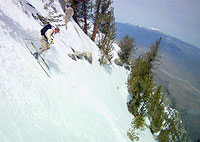 We drop our gear beside the summit blocks and perch cautiously on the edge to scout the route ahead.
The upper 150' of San Jacinto's north face is comprised of a steep and currently discontinuous headwall. We'll have to find some way around this section—either pass it to one side or the other, or just downclimb it.
Farther down, what appears to be a slim and minor patch of snow is actually 5000'+ of skiing on snowfields as wide as one or two football fields.
And beyond that, of course, we'll be carrying our skis down the inarguably rugged-looking Snow Creek drainage for the remaining 4500 feet or so between us and our car.
It looks...Big.
I am reminded of the sensation of staring at a cold pool of water when you're thinking about jumping in. It's best, sometimes, to just take the plunge and do your contemplations later.
And so, after a short break, we snap into our bindings and begin a westward traverse along San Jacinto's airy summit ridge, looking for a good place to drop in.
A week ago, a late-season storm brought about a foot of fresh snow to these slopes.
Our hope is that several days of Southern California sun have subsequently not only stabilized the new snow on San Jacinto's north side, but consolidated it into something that will actually make for good skiing. We traverse westward along the summit ridge and find a nice narrow chute which provides reasonable passage through the headwall.
I play the role of guinea pig, dropping in to see what mother nature has in store for us. The answer is a sort of trifecta of challenges: an icy but also breakable crust covered with gloppy unconsolidated snow. It's skiable, to be sure, but it ain't pretty. The unconsolidated snow slides readily off the icy crust in small sluffs that act like slabs, while my skis' edges alternately whoosh across ice or abruptly punch through and grab. Well, we never thought it would be easy...