Skiing Snow Creek — Page 6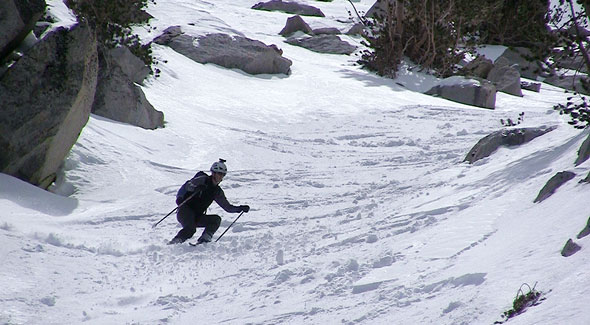 Steeps and Slabs
It would be nice to write we encountered perfect snow from top to bottom on San Jacinto Peak, making for the ski run of a lifetime. And surely, someone sometime enjoyed exactly that.
But the reality of Snow Creek is that adventure is much more likely than good skiing. In midwinter you face the possibility of massive avalanches and deadly ice—so powder chasers beware. The threat of avalanches and ice diminish (somewhat!) in the Spring climbing season, and there is at least the hope of finding velvety sun-kissed snow on the face.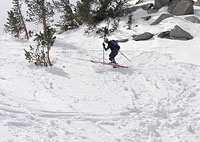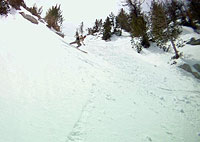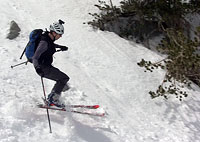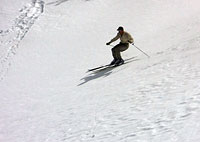 Today we're just hoping the snow will consolidate as we get lower. 'Burn the Video' is my motto.
As soon as I drop in off the summit ridge, I feel like I'm flailing, battling this combination of collapsing crust and glop on 40-45° slopes without much elan, I'm afraid.
That said, there is satisfaction to be had in managing snow like this: finding a way to make solid turns even when the snow isn't cooperating.
If that fails to motivate you, you can always try to flail less than your partner—though the rock-solid Dave isn't really cooperating in that regard.
So, it's a bit of survival skiing up here on top.
I wait for Dave to pass. When he's reached a safe perch, I resume my descent, stopping frequently to let the snow sluff past me.
We are presently in the camera right or westward arm of the giant Y couloir centered about San Jacinto Peak's north face, a feature prominently visible from the desert floor.
With a little patience and a lot of hard work, we continue our descent.
What's interesting about this is that as we descend, the desert doesn't seem to get any closer.
Normally skiers can traverse large vertical distances rapidly, so it is alarming to find yourself skiing down, down, down—and not having the sense that you're actually getting anywhere. The direct cause of this, of course, is Snow Creek's almost supernatural double-mile drop, which offers a scale of verticality that vastly exceeds anything I've ever seen before.
To be honest, it's intimidating. What time is it? I ask Dave again. I'm starting to eye those sandy flats far, far below with more than a little longing. To get there, we'll be carrying our skis on our backs for nearly a vertical mile through what promises to be exceptionally rough country. But first, we've got a vertical mile of snow to ski.