Skiing Snow Creek — Page 7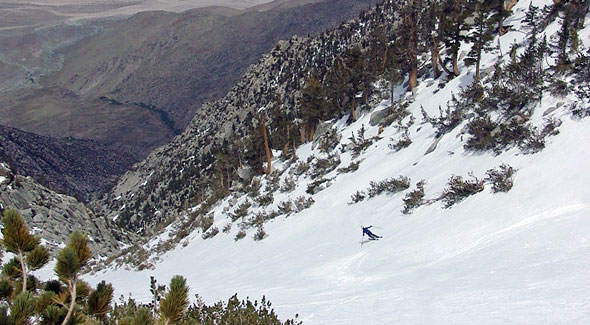 The Junction
If you're going to go through all the trouble of taking on a route like Snow Creek, with all its rigors, you at least want to be dazzled now and then by the scenery.
Passing through the 9000' elevation, we come to the first of several prominent junctions in the couloir. And the view here does not disappoint: the couloir widens, plunging and then disappearing into the narrow granite of the Snow Creek drainage beyond.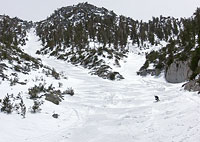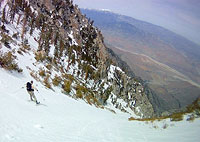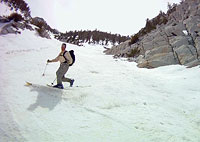 Below that are the vibrant reds and oranges of the desert: seemingly close enough to touch, yet impossibly distant at the same time.
And that latter impression is the correct one. In terms of total distance, we've only just begun.
Skiing through this section, I can feel my skis collapsing randomly through the surface of the crust, making for jittery protected turns and a quick burn in the thighs.
Meanwhile, in addition to desert views, we are pointing as well toward the impressive mass of San Gorgonio Mountain, at 11,502' the highest point in Southern California.
And so it is, stranger than fiction, that sea-level dwelling Los Angeles residents enjoy fast access to not one but three major ranges, all of which rise over 10,000 feet from the not-so-distant shores of the Pacific Ocean.
The Sierra, in case you're wondering, is not among that trio.
But it is only three hours from my house to Lone Pine and Mt. Whitney, highest point in the lower 48 states, whose net vertical rise of 10,900' over Owens Valley falls roughly 200 feet short of...Mount San Jacinto's.
Here on San Jacinto, evidence of avalanches great and small is becoming increasingly difficult to ignore.
I somewhat optimistically speculate that the relative lack of large downed trees in our present location suggests the area sees mostly wet slides rather than large, destructive slab avalanches. Dave points out another possibility: maybe avalanches have already scoured all the big trees out of this massive gully. Hmmm. In any case, a quick survey of the stunted and abused trees around us suggests the area does get scoured quite a lot.
In fact, a large wet slide appears to have happened within the last day or so. This, oddly enough, has the beneficial effect of smoothing out the snow. In the path of this large wet slide, we find a 50 yard-wide section of smooth consolidated snow that makes for easy skiing. The slide path goes on and on, much farther down than expected, and we take full advantage of it, quickly burning through another thousand feet of vertical.