Skiing Snow Creek — Page 9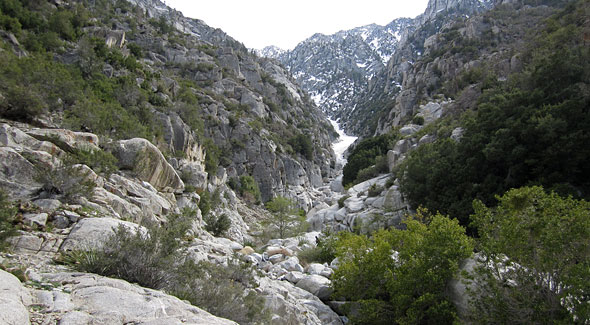 Boulders and Brush
My fantasy is to take a time machine back 10,000 years or so to the last ice age—with my skis. No doubt it would then be possible to ski Snow Creek all the way to the desert.
Today, however, we are forced to remove skis and boots around 5500' or so, where the snow ends. From here on out, we'll be hiking and scrambling up and down boulders and through brush-blocked gullies, and doing our best to stay on-route.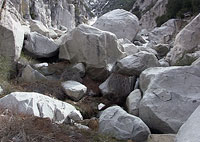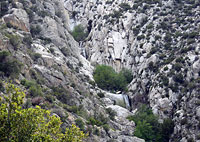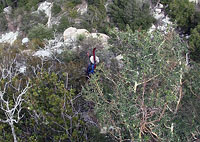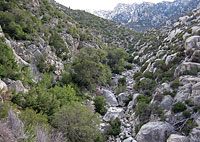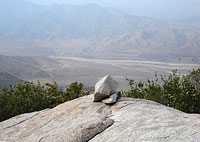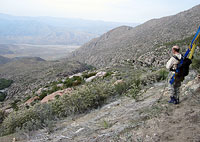 Snow Creek is becoming enough of an institution that there is in fact a use trail through the lower drainage, cairns included.
There are perhaps three critical sections to deal with.
The first is a very important left-hand bypass you must take (descending) soon after the snow ends into a neighboring mini-drainage.
Miss this, and you'll follow Snow Creek right over a series of waterfalls.
The second critical find is the aptly-named Tunnel section, in which the use trail does indeed 'tunnel' through a vicious and lengthy stand of brush.
It is possible to miss the Tunnel and still successfully climb the route, though one shudders at the prospect.
And finally, critical section three is the junction of the normal route and the East Ridge traverse/bypass, in which climbers heading down must decide whether or not they're going to try to avoid DWA land.
Individually, these are each significant challenges. Taken together, they make me very glad we collected every possible bit of information we could find about the route before actually attempting it.
Meanwhile, hiking down with skis and boots on your back makes for its own special experience. Boulder problems become that much harder, while ski tips seem to catch on practically every damn twig on the mountain.
Acting in concert with these considerable forces of opposition are the rising heat of the nearby desert plus all the effort we've expended already above. Despite my exhaustion, however, I'm starting to feel kind of...euphoric.
I tell Dave I'm starting to feel it: the massive, magnificent energy of this place.
In terms of pure vertical, nothing I've ever done compares to this mind-boggling path connecting San Jacinto Peak's lofty summit to our car in the desert below. But this is about more than just numbers, more than just the fact that the route exists in Southern California. No, this place would be equally special were it in the heart of the Sierra, or any other of the planet's great ranges.
Snow Creek is the sort of route that mountaineers live for. It is one of our great natural wonders, and and such it does not belong to any one person or entity. And...well, you can see where this is headed. Because while I've been waxing poetic about this sublime masterpiece of granite, ice, and desert, we've been steadily drawing closer to the heart of the controversy—the bottleneck of land controlled by the DWA.