Avalanche Gulch — Page 2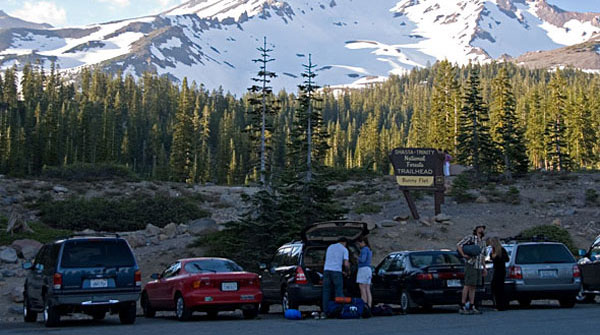 Bunny Flat Adventures
Having been twice turned back by poor weather on Mount Shasta, I was especially eager this year to return and try once again. This time, I hoped to do the whole climb in a single day.
My ambitious plan was to beginning my ascent from the Bunny Flat parking lot at midnight. Since I had been up the route only two weeks earlier, I knew I'd be able to find my way to the snow. Hopefully, the only challenge I'd face this time would be my own limits—not high winds or storms.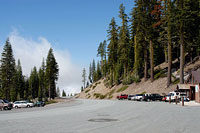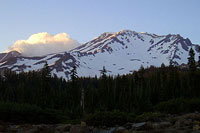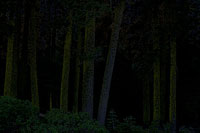 When he was in college, my father used to drive all night, across a state line, to see my mother. Hearing of these stories, I always thought dad was crazy, but here I am now driving as far or worse to see an icy mistress who has twice rebuffed my advances.
After 590 miles on the road, I arrive in the town of Mount Shasta just before sunset. Road-weary, I stop for a quick dinner, then drive up to Bunny Flat.
At the Bunny Flat parking lot, would-be climbers quickly discover there's no such thing as going solo on Shasta's Avalanche Gulch. The parking lot is crammed with cars and people.
The human activity thankfully fades after sunset, and I try to grab a few hours' sleep. Surprisingly, with a pillow and blanket I'm quite cozy in the back of my Civic.
Midnight. My alarm goes off, though I can't say it wakes me. I've been half-awake, half-asleep, eager to get going.
I put boards on pack and ski boots on feet and begin hiking up. The switch on my headlamp chooses this moment to malfunction. The light flickers and strobes, providing a feeble glow that barely reaches my fingertips. My ski boots Ka-THUNK again and again against rocks I can't see, trying to trip me. Into the woods I go, and now I'm really missing a working headlamp.
I do my best to follow the trail, but it's just too dark to see anything. Surprisingly, for this portion of the hike I am absolutely alone, just me and the monsters circling me in the darkness. A rustling noise coming from the woods nearby makes my heart jump. I wield a ski pole menacingly in defense, but of course I can't see anything. Just blackness.
Onward. The air is very warm, and I must peel off clothing already. The trail—if I'm actually on it—seems to keep traversing west, instead of heading up the mountain. Shasta's outline has long since vanished behind thickening trees. Backtracking becomes the game of the moment. I'm frustrated with the forest, the trail, the dark, feel like I'm stumbling around in circles, burning precious time.