Avalanche Gulch — Page 3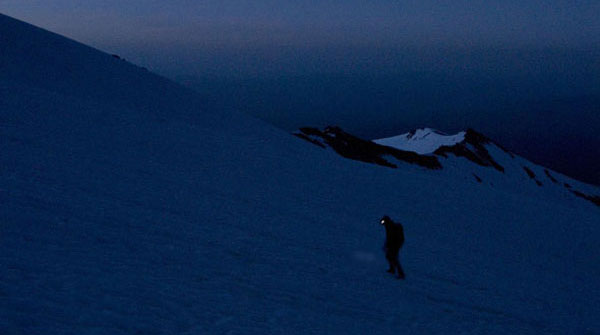 Headlamps in the Dark
However long I spend lost in the woods, Horse Camp and the Sierra Club Hut is a little more than a mile from the parking lot. Here, the thick forest abruptly gives way to open, snowy slopes.
I am well relieved to see Avalanche Gulch and Shasta's outline once more before me. I pass a stand of tents tucked into the last few groves of trees. Many of their occupants are already awake, preparing for their own early start up the mountain. I see bobbing headlamps, hear stoves firing, pots clanking, the whispers of pre-dawn conversation. I find a quiet spot of my own and take a short break.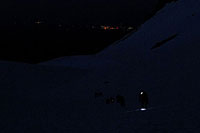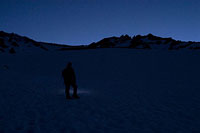 My God, the stars! Leaning back against a flat boulder, I'm staring up at a heavenly display. Crystal-clear air and high altitude make it seem as if the sky is close enough to touch. Compared to SoCal's ever-present, red-orange mush, this sight alone makes all the driving worth it.
After drinking water and eating a midnight snack, I snap into my bindings and begin skinning up the Gulch. Warm, dry air blends with chilly downslope winds, making it difficult to find the right combination of clothing. I wrap my jacket around my pack straps and constantly fiddle with my zippers as I alternate between too hot and too cold.
I'm soon joined by a large team of guided climbers leaving Horse Camp. Their headlamps form a string of lights beneath me. And beneath them, I see the lights of Mt. Shasta Village, some six thousand vertical feet below. Higher up, I can see other teams of climbers, leading all the way past Lake Helen to the Red Banks and beyond. Shasta is lit up like a Christmas tree tonight.
The lower Gulch begins to steepen, and the snow starts hardening. This makes skinning a bit more challenging, especially in the dark. Prudence dictates I switch over to crampons, so I stop, drop my pack, and let my lighted companions pass. Their leader, a Shasta Mountain Guide, inquires if I'm all right, wondering about my absence of light.
Hopefully, my response isn't too prickly. This share-the-mountain climbing is new to me, a lonely Sierra Eastsider. The group trudges on. I follow a hundred yards back or so, now on crampons. Compared to the smooth, level-heeled motions of skinning, climbing up sun-cupped ice in the dark on crampons is no fun at all. Thankfully, the sky is beginning to lighten.