Avalanche Gulch — Page 4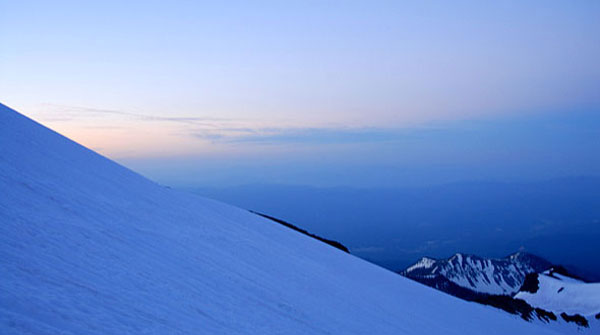 Lake Helen at Dawn
The eastern horizon is starting to glow. Now matter how many times I see it, after climbing all night in darkness, the sight of the approaching dawn remains pure magic.
The landscape in all directions becomes a living tapestry of color, evolving moment-by-moment into ever-grander delights. In addition to the visual feast, dawn brings pragmatic advantages as well. I'm now able to spot and follow a boot trail, which makes the climbing much easier.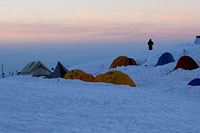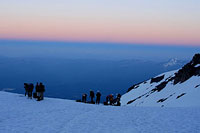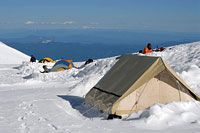 The sky continues to lighten with surprising speed. With the horizon revealed, the early-morning forecast looks excellent: calm winds, clear skies, no hint of monsoon moisture in the sky.
I am feeling slow and weary from my all-night push, and I focus on keeping a steady, if sluggish pace upward. My guided on-and-off companions have broken up a bit; on this section, at least, their leader is content to let them climb at their own pace.
A striking pink line forms to the west, dividing the blue, hazy Earth from the glowing sky above. Soon, Shasta's great shadow will break the symmetry of that divide.
We are somewhere in the vicinity of Lake Helen, elevation 10,400'. I mistakenly believe I've already passed the popular camp spot (there is no lake, except following unusually dry winters).
It is therefore a blow to my morale when I top a rounded hump in the belly of Avalanche Gulch and spot a virtual armada of tents and climbers readying themselves.
I estimate it's around 5:30 a.m.
That means it has taken me a considerable 4 hours 45 minutes to climb the 3500 vertical feet from Bunny Flat to Lake Helen—the halfway point of the climb.
And if I've been thinking Mount Shasta has been crowded up to this point, I now realize I've been sorely mistaken. I can see hundreds of climbers now. Many are still milling about camp, fiddling with crampon straps, axes, packs, helmets. I envy them their fresh legs. In addition to all these people at Lake Helen, I see a nearly continuous line of climbers along the route ahead, working their way up the steep headwall that towers over Lake Helen.
All these people, young and old, male and female, experienced and newbie, on one mountain! I've never seen anything like it. It is good to see so many people enjoying this high altitude wilderness. But couldn't they have picked a different day? I press on, lethargically poking the snow with my ice axe, passing Lake Helen at oh-so-slow a pace.
I don't feel good. Shasta's enormity is beginning to overwhelm me. All the driving, no sleep, hiking in the dark, the altitude, the warm, dehydrating winds below, it's all hitting me now. Once again, I've pushed myself too hard, and I realize it may be my own condition—and not the mountain's—that prevents me from reaching Shasta's summit today.