Avalanche Gulch — Page 5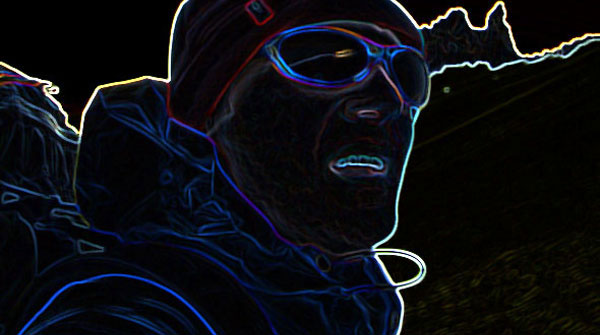 Meltdown
The skis on my back draw stares and a few curious comments as I follow one of the many sets of boot tracks heading up the Avalanche Gulch headwall.
Amongst all the climbers, I am one of perhaps two or three skiers on the route today. People seem surprised I'm carrying skis. I'm surprised they're not skiing—I can't imagine climbing up all this way and having to walk down. It's interesting to see such a wide range of climbers on what must be called a technical route.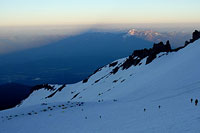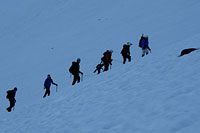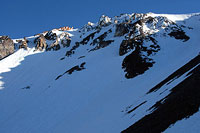 Shasta's shadow pushes out to the west now, a great pyramid cutting across the horizon. I slowly gain altitude. Beyond Lake Helen, the snow steepens quickly, reaching a sustained pitch near forty degrees.
On hard snow, that's steep enough to make for a nasty fall. A few teams of climbers are actually roped, though I imagine they're training for future ventures. Everyone, as far as I can tell, has crampons and axe, though I wonder how many are using these tools for the first time.
Normally, even coming from sea level, I am a fast climber. Not today. I'm running well below average. As the sun lights the top of Avalanche Gulch, I begin scouting the route ahead for possible lines of descent. For some reason, I find I'm having trouble seeing the snow to assess its condition. Soon, I'm having trouble seeing the Chutes themselves.
I'm losing my vision.
With great dismay, I know at once what's happening. It is, in all honesty, a personal doomsday scenario: a migraine attack in the backcountry. Thankfully, these merciless headaches have largely become a thing of the past for me, except very rarely, in times of great stress. Now, however, the combination of travel, no sleep, exertion, and altitude has just triggered one. And it looks to be nasty.
I've got to stop. I veer off the main trail and find a place to sit amongst piled avalanche debris. I drop my pack, take all the ibuprofen I have in my inventory, and wait. My entire field of vision is now glowing with brilliant, flashing fractal spirals of blue-white diamonds. This is the Aura, the painless, initial phase of the headache. If the migraine runs its course unaborted, the Aura will fade in twenty minutes, to be replaced with crushing pain.
I nibble on pretzels and sip water, trying to remain calm. Lines of climbers slowly march past. Will I be rejoining them—or asking for help? Time passes. My vision slowly returns. Sweeping numbness and tingling pings across my body. But there is no pain—the medicine has done its work. And now what? I still want to reach that summit. I tentatively put my pack on and rejoin the group, moving slowly, hoping my body will hold together.