Avalanche Gulch — Page 6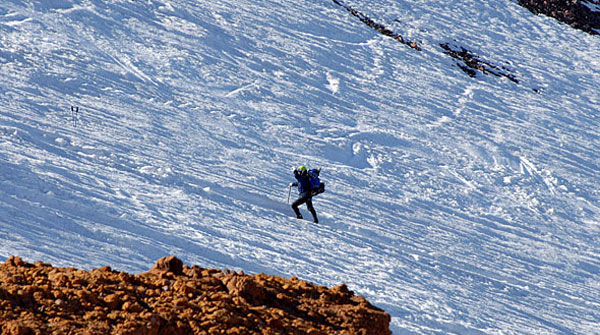 Beneath the Red Banks
The climb from Lake Helen to the top of the Red Banks is both tiring and non-trivial: 2500 vertical feet up steep, hard snow. Step by step, I'm gradually regaining strength and confidence.
Other climbers, however, are starting to fade. I begin to pass people who've reached their limits and are turning back. There are three primary route variations at this point. Avalanche Gulch's headwall proper, 'Left of Heart', passes to climber's left of the wall of cliffs called the Red Banks.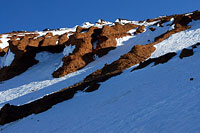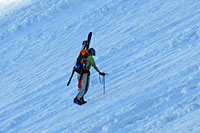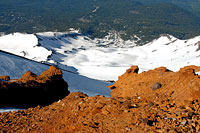 This area faces considerable rockfall hazard, however, and is only recommended later in the year, as it tends to hold snow the longest. Most climbers, myself included, choose to veer right, aiming for the pass between the Red Banks and the 12,900' Thumb Rock.
Ascending this giant, sweeping wall of snow is a vertiginous experience, with more than enough exposure below to inspire caution in placing crampon points and axe spike.
I'm just happy to be back on route, with no ill effects other than the usual post-migraine numbness and tingling. It is a small miracle for which I'm deeply grateful. Shasta's summit is once more within my sights.
Step, breath, step, breath.
I'm timing my pace to my breathing to keep my heart rate as stable as possible. I'm struck, here beneath the Red Banks, by what an extraordinary confrontation with Self climbing is.
All of us here today on Mount Shasta are locked in our own personal struggles, against the mountain, our bodies, our will.
Mountaineering seems to me among the purest of man's competitions, unsullied by judges, points, or regulations.
And though we're all in this struggle together on Shasta today, we are also alone. Step, breath, step, breath. I estimate my current altitude near 12,500'. Still a long way to go. I choose to leave the stairway of footsteps, traversing left to cut through the bright red rock of the Red Banks, via variation three, the Red Banks Chimneys.
After a short, steep ascent up a narrow and icy chute, I'm atop the Red Banks, in blazing sunshine, surveying the immense panorama below. In every way, this climb of Shasta has been extraordinary. Now, sitting atop the fiery rock of the Red Banks, I munch on a peanut butter and jelly sandwich, surveying the whole of the route traveled thus far.
I can see Bunny Flats, some six thousand vertical feet below. From my vantage point, I can see a snowy gully dropping almost all the way back to Bunny Flat. In contrast to my midnight wanderings in the forest, I'll be skiing almost all the way back to my car. The weather remains perfectly clear. My head is holding together. I feel lucky to be here, in this moment. I feel blessed.