Avalanche Gulch — Page 7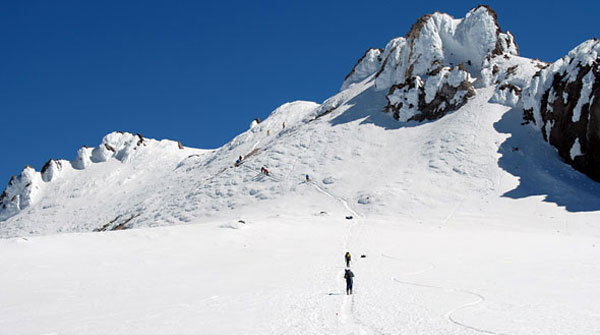 To the Summit
Scattered groups of weary climbers stagger about like mindless packs of B-movie zombies, pointing the way ahead. This last section is called Misery Hill.
The name is apt: a thousand vertical foot hump stands between us and the true summit. After the marathon of Avalanche Gulch, Misery Hill is the final test. Misery Hill's more moderate pitch, however, allows me to snap back into my skis and skin up, taking 12 pounds off my back.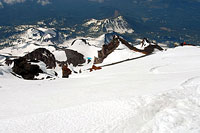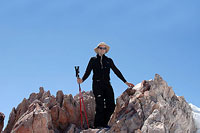 This at last allows me to answer an age-old mystery: are crampons or skins faster? Today, the answer is obvious.
Climbing smoothly on my skins on perfect corn snow, my pace picks up enough to where I'm passing the very same climbers who've been matching my speed all morning.
I angle to the east, ascending smooth snow on the upper reaches of the Konwakiton Glacier.
In all directions I see inviting terrain frosted with wonderful, velvety corn snow.
After the difficulties of the past 24 hours, this feels like a victory lap. With each step upward, my spirit soars higher, higher.
This will be one to remember, an incredible personal achievement. I wonder how many of my fellow climbers share my elation? And I get to ski down!
The thought of the coming descent puts an incandescent smile on my face. As I top the Not-So-Miserable Hill, Mount Shasta's summit comes into view. It's different from what I expect: a steep pinnacle of sharp rock jutting upward from atop the summit ridge.
To the west, I see Shastina, Lake Clarence King, the crevasses and ice falls of the Whitney Glacier. I carry my skis as far as the snow goes, then skitter up the remaining rock in my trusty ski boots until there's nowhere higher to go. At 10:30 a.m., nine hours and forty-five minutes after I left my car, I reach Shasta's summit. A small crew of fellow summiters meander about Shasta's high point. It is not particularly crowded at the moment.
The wind is brisk enough to discourage loitering, and I'm eager to ski while the snow is at its best, so I rest briefly, then ready myself for the descent. The pitying stares from climbers who've watched me ascend all this way with heavy skis on my back abruptly shift to envy as I snap into my bindings a scant few paces from Shasta's true summit. I clack my poles together for luck.