Avalanche Gulch — Page 8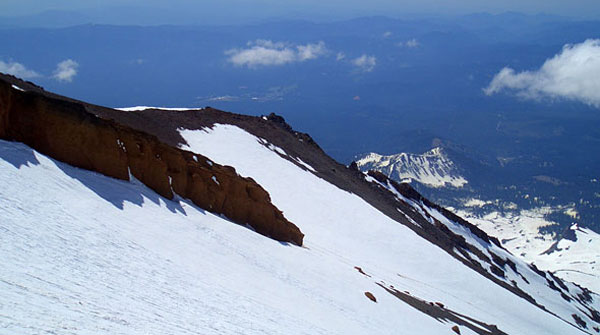 7000' of Skiing
The upper summit pinnacle is coated with ice and rime. My trusty TM22's make quick work of this section, and then I point the boards down.
Normally I keep my speed down on a backcountry descent, but today Shasta is offering up a feast of smooth snow over the Konwakiton Glacier. I make huge, whooshing GS turns, streaking down the eastern side of Anything-But-Misery Hill.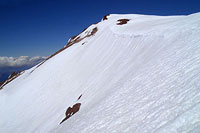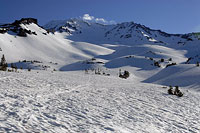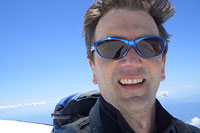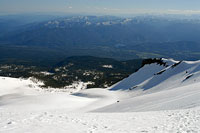 The skiing couldn't be better if I'd hauled a snow cat up to groom it for me. Can this really be 14,000' skiing in July? I ski over to the top of the Avalanche Gulch headwall.
I like the fact that the snow has been getting baked by the sun. I'm not interested in sliding about on ice right now.
As mentioned earlier, the headwall and regions below the Trinity Chutes face significant rockfall threat. I'm not overly concerned, given my extra mobility on skis, but foot-bound climbers should approach this area with caution.
I'm being cautious too, linking sure, deliberate turns on this relatively steep section, gradually working my way westward beneath the cliffs to stay on smoother snow. The terrain is mind-boggling.
In contrast to the somewhat homogeneous Hotlum-Wintun Ridge, skiing Avalanche Gulch affords many transitions through distinctly different sections, all the while hammering home how truly immense the mountain is.
My legs are beginning to give out, used up by the tremendous vertical I've burned, yet there's still thousands of feet of skiing to go. It strikes me that this is it: I've found Backcountry Skiing Nirvana.
Words won't do this day justice. Neither, even, will photographs. I will carry the memories of today inside me from now on, a little piece of magic to be recalled as needed whilst I navigate the difficult worlds below. A little more than an hour after I've left the summit, I step at last off snow onto bare ground, elevation 7000 feet, equaling the total vertical I've just skied. My car is an easy two hundred yards farther. The drive home, quite a bit more than that.
And so, I have tried. I have done my best to capture a small part of this remarkable adventure, tried to describe Shasta's inexpressible beauty, tried to hint, clumsily, at Shasta's mysteries. Skiers contemplating an Avalanche Gulch descent should be aware that snow conditions can be much less friendly than I encountered, as can Shasta in general.
The season on this side of the mountain can be unfortunately short, pinched between winter's storms and summer's crumbling talus. But do not let the guidebooks nor crowds nor testy conditions dissuade you from trying this extraordinary climb. Choose your moment with care, prepare yourself, and find your own adventures on this backcountry treasure. I'm glad I did.