The Hotlum-Wintun Ridge — Page 2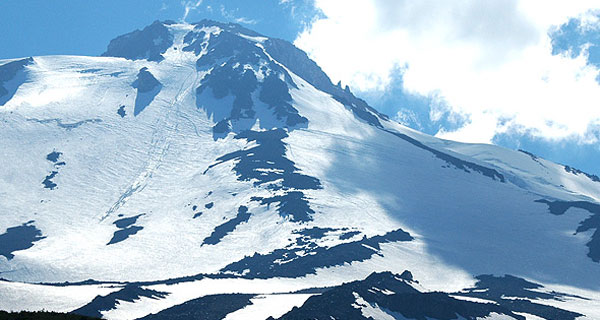 Scouting the Ridge
For late July, the snow appears to be in good shape, with relatively little sun-cupping. Earlier in the season, I know, Brewer Creek drainage would be completely snowbound.
Today, however, I will have to ascend along the north side of the drainage, which still holds several long, continuous fingers of snow connecting to the mountain's upper slopes. The traditional route ascends the obvious ridge between the Hotlum and Wintun glaciers. Around 12,000 feet, where the ridge steepens noticeably, skiers traverse left beneath two obvious rock buttresses, onto the Wintun glacier's upper snow pack, which leads to the summit.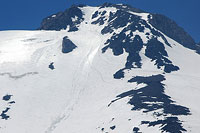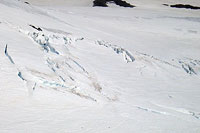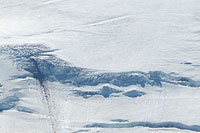 On closer inspection, however, I spy a narrow finger of snow on the ridge proper which seems to go almost all the way to the summit.
The snow appears smoother there, as well as steeper and generally more interesting. I decide I will alter the standard route a bit, remaining on the Hotlum-Wintun spine instead of traversing, following the snow finger as far up as it will take me.
It looks like I may be forced to hike over a short section of talus near the top, but I hope that will prove to be at most a minor inconvenience.
Shasta's reputation can be intimidating.
In fact, I myself have avoided climbing the peak because, frankly, I'm a little scared of it. Mount Shasta is famous for its ill-tempered weather. The mountain stands barely 60 miles from the Pacific Ocean, putting it squarely in the sights of the Pacific storm track.
Any time of year, Shasta can form a menacing lenticular cloud, blanketing the summit in a white-out, assaulting would-be climbers with savage winds, blinding snows, and zero visibility. This is also a mountain whose entire south face is aptly named, 'Avalanche Gulch'. Shasta thus demands a large measure of respect.
The Hotlum-Wintun route, however, avoids at least a few of Shasta's greater perils by remaining principally on the ridge line, (one must still be on the lookout for small crevasses within the permanent snow pack), making it perhaps one of the safest lines to the summit. The route is also quite straightforward: simply follow the ridge line up, then traverse near the top.
From the ridge's exposed vantage point you'll enjoy outstanding views of the bordering Hotlum and Wintun Glaciers, and their crevasses, seracs, and ice falls, all of which will remain at a safe distance—at least in theory. Meanwhile, I spend a long afternoon wandering the rolling hills beneath that impressive ridge line, pondering past, present, and future, until at last the sun finally sets. Then I retire to my camp, eager to begin tomorrow's ascent.