The Hotlum-Wintun Ridge — Page 3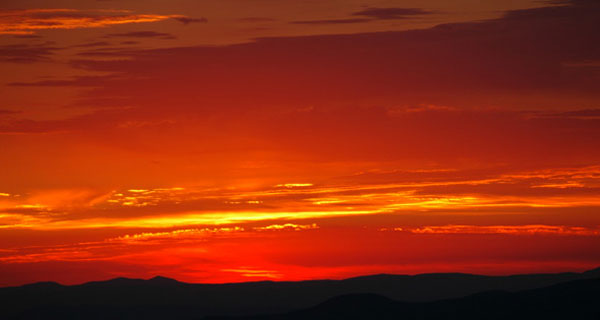 Dawn Patrol
Wanting to preserve as big a descent as possible, I've camped at a relatively low elevation—around 8500 feet. Consequently, I set my alarm for a very early 4:30 a.m. start.
I'm excited to at last be underway. But what's this? As I scan the pre-dawn sky, I see disturbing patterned clouds glowing in the moonlight. It looks like a substantial flow of moisture has ridden in from the south overnight—Monsoon moisture is my guess. I wish I'd camped higher. I can only hope I'm misreading the weather.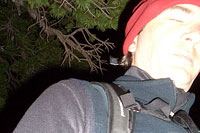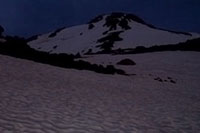 But looking at those clouds here in the dark, I'm already betting I'll be racing thunderstorms to the summit today.
Skinning in the darkness, meanwhile, is proving to be a bit tricky. True, with the full moon, the terrain is bright enough for me to see without a headlamp.
But the snow is crunchy, and it's hard to judge exposure in the dark. I decide to switch to crampons and put my skis on my back. The security of crampons makes it possible to travel fast: on hard snow, a boot-hiking climber heading directly up can easily outrace a zig-zagging skier.
Crampons aren't without their problems, however. First of all, you have to learn how to use them, how to swing your legs, ever mindful of not catching the sharp points. And may the gods pity you if the snow softens and you start to post-hole. Efficiency goes out the window then, and the skis on your back grow heavier with each labored step.
As the sky begins to glow with the approaching dawn, I reach the start of the true ridge line. The angle is quite moderate here, and I know I ought to switch back over to skins, but I'm alarmed by the sky and I decide I don't want to take the time to stop and change over.
To my eyes, clearly, the air is loaded with monsoon moisture. I know that sight well, and I know what it means. I'm motivated to keep going, unwilling to give up even the ten or so minutes it would take to change gear. I decide I'll conduct an experiment: a test of crampons' speed and efficiency. The snow still isn't as hard as I would like for crampons, but it's solid enough. I keep climbing.