Split Mountain — Page 2
Red Lake Trail
As a rule, backcountry skiing in the Eastern Sierra involves at least some degree of suffering. Accessed via the Red Lake Trail, Split Mountain is no exception—quite the reverse, in fact.
Trevor and I depart from our campsite at 5:45 a.m. and right away we get lost. I suppose for those wanting to preserve as much of the spirit of adventure as possible, I should give a spoiler alert here: skip to the next page if you would prefer to avoid any advance warning regarding the quirks of the Red Lake Trail.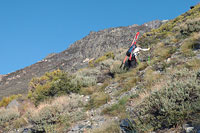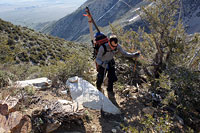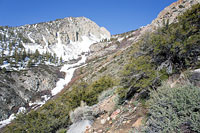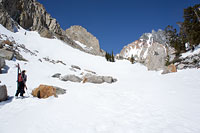 Good?
All right, let's begin by noting that getting to the trailhead involves one of the worst drives in the Sierra, in part due to a strip of private property blocking direct access to Highway 395.
When you do finally arrive at the Red Lake trailhead, having traveled via the very rough and roundabout McMurry Meadows Road bypass, you will park around 6600'. For morale reasons, I suggest avoiding doing the math on how far you'll have to climb to reach Split's summit—it's best to just think of it as a 'big day'.
Now here's something interesting: the Red Lake Trail does not, in fact, begin at the Red Lake Trailhead sign.
This, I must say, is a very clever bit of trickery, made all the more devilishly effective by a nearby and prominent cairn marking a footpath to (as best I can tell) nowhere.
Twice I have gone up the wrong way, each time rooting senselessly around in the brush and the bluffs along Red Mountain Creek, trying to connect to the actual trail, which sits some 500-600 vertical feet above.
So, in the interest of advancing the public good, let me note that the Red Lake Trail actually begins to the north of the sign.
Take the right-hand fork in the road near the end and park beside a stand of willows. The trail here is a flimsy footpath that briefly follows the willows seemingly in the wrong direction (northward) before eventually flipping back toward the Red Lake drainage. If you do find the trail, don't get too excited. This is not a regularly maintained path, and it is very easy to lose even once you've found it—particularly as you travel higher up the drainage.
For our purposes today Trevor and I hope to abandon the trail for snow along the drainage's north aspect as soon as possible. Here at the end of May, this proves to be a bit higher than we'd like, somewhere in the vicinity of 9000'. But it is still with much satisfaction that we cross Red Mountain Creek and reach snow, where at last we can put on boots and crampons and get this trip underway.