Split Mountain — Page 3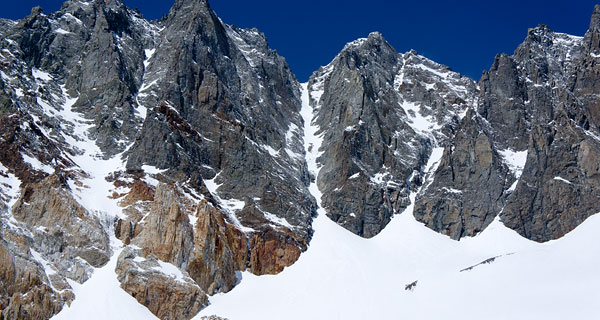 Illusions, Revisited
I suppose none of us will ever look at Split Mountain's northeast couloir the same again. On April 26 of this year 2011, California ski mountaineers Kip Garre and Allison Kreutzen were killed by an avalanche while ascending it.
Split's east couloir is one of the most highly regarded ski descents in the range, big, menacing, exquisitely aesthetic, with two mandatory rappels over ice bulges. First skied a decade ago by the eastside's Glen Plake, this year the couloir gained national attention via its inclusion in 50 Classic Ski Descents of North America, by Chris Davenport, Art Burrows, and Penn Newhard.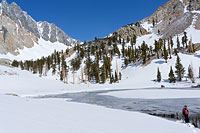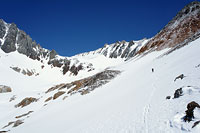 Our route today to Split's north face takes us below and then past the northeast couloir, offering a close and prolonged look at a place that is now haunted ground.
I want to focus my attention on the magnificent mountain and scenery around me, but, as I eye that east couloir warily, it is the human story to which my thoughts keep returning.
I want to know what happened here. I want to understand what cannot be understood, make sense of the senseless.
We study the past's permutations as a means to inoculate ourselves against their return. But how often do we dare acknowledge how little immunity this strategy offers against the unknowable possibilities of the future?
As I pass the debris-strewn apron below Split's east couloir, I am suddenly reminded of the great Doug Coombs, as he appears in the Mark Obenhaus film, Steep.
In the film, Coombs has an oddly detached, almost fatalistic demeanor as he talks about ski mountaineering's inherent risks.*
When I first saw the film I found Coombs' implied acceptance of the possibility of dying in the mountains both inexplicable and deeply unsettling.
He seems in the film like a man who knows his time upon this Earth is short. And this old interview is playing in my head, now, here in the present tense beneath Split Mountain, only today I find myself interpreting it differently. Today it seems to me that there is a subtlety to Coombs' words that has previously eluded me.
Climb and ski the big mountains or do not—that is a choice only you can make. But if you do, do it with humility and above all else with honesty. It's not safe. That is the message Coombs is trying to tell us. Face these hazards if you choose, if you must, but do so consciously, deliberately, intelligently. And whatever you do, never, ever fall for any illusions suggesting otherwise.
*Shortly after that interview, Coombs fell to his death in La Grave, France, while trying to help a skier who had slipped over a cliff.