Split Mountain — Page 4
Prater Saddle
The wind is screaming atop the Sierra Crest today. Trevor and I aim for the low point between Split and Mount Prater, a high saddle from which contrails of wind-blown snow are presently streaming.
The crest is lined with a series of massive cornices, most of them perched above the neighboring Tinemaha Creek drainage to the north. But for the past hour or so, making our way up Upper Basin, we've also been climbing beneath a somewhat-worrying cornice and wind-loaded aspect to get to the saddle.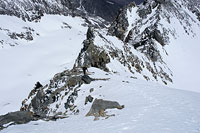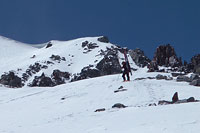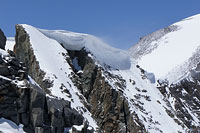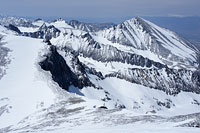 The size of some of these cornices is truly impressive—vivid evidence of this winter's stunning snowfall totals.
Though the day's cold temperatures minimizes the chances of any of these beasts breaking loose and falling, we still don't want to spend unnecessary time beneath them.
Of greater concern is the wind-blown snow, and the loaded aspect just below the crest. An east-running ridge, cliff-bound to the north, limits our options here. We ascend right along the knife-edge of the ridge, and plan to ski the same to avoid that suspect face, and possible avalanche hazard.
It's not an ideal solution, but it's the best the route offers today.
And so as we climb we keep our eyes on that face, trying to use the terrain to position ourselves away from the direct line of fire.
The last section of climbing is quite steep, unexpectedly so for this otherwise moderate route, with just enough exposure below to make you think about it.
Then we're past the cornice and onto the broad saddle between Prater and Split, elevation right around 13,000 feet. Exposed now to the wind's full power, we pause to switch to warmer clothes before resuming the climb.
Another thousand feet to go. From here, Split's north face is a broad and gentle ramp, made difficult only by the wind and the occasional icy patch. There is more than enough snow on the face to make for good skiing—good news. But the day has long since passed beyond the mere grind category. For this last thousand feet, blasted continuously by the wind, the climb is indeed withering.
I try to switch back to ascending on skis and skins, hoping it will be easier, but the snow is just hard enough to make that impossible, so it's back to crampons with skis on the pack. Meanwhile, it's hard not to get excited by the increasingly-stunning views of Owens Valley to the east and the deep Sierra to the west. The inner Sierra covers the horizon, a lifetime of ski descents just waiting for me—and you.