Split Mountain — Page 5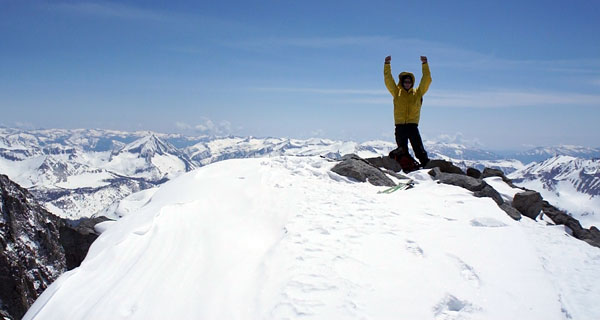 Atop The North Summit
Set right in the center of the High Sierra, Split Mountain gives perhaps the most expansive view of the Sierra's fourteeners, from Langley far to the south all the way to North Palisade.
Of course there is also a magnificent view of the interior Sierra to the west, a snowy horizon of peaks and passes just begging to be explored. Some of those distant peaks I recognize; most I don't. All of them seem worthy of further investigation—skis included, of course.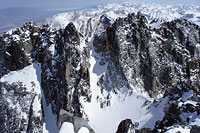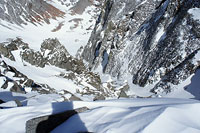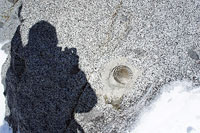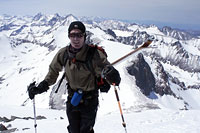 The wind mercifully takes a break as Trevor and I at last reach the top of the north summit, highest point on the mountain. I cautiously creep southward to peer over the edge.
Every summit in the Sierra is unique, but I must say Split's dark, dueling apexes make for a dramatic sight. Between summits north and south is a dramatic and exposed gap, with the funnel-like northeast couloir dropping sharply to the Red Lake cirque far below.
I contemplate that beautiful and terrible couloir, struck silent by the sight of it, holding dear in my thoughts the memory of two people I've never met, never will meet, but who are nonetheless kin...
A check of the time reveals it's three o'clock.
Time to get moving, I suppose, though I feel an inexplicable desire to linger here longer, for what reason I really can't say.
I find myself wondering if it's possible to cross between Split's two summits.
The scramble between them is variously given in guidebooks as class 3 or class 4. Today, in ski boots, I feel no great temptation to give it a try. Even without snow complicating matters, I'd tilt toward the harder rating: the terrain is steep, with considerable exposure.
Meanwhile, in contrast to that sharp drop to the south, there is the broad snowy slope behind us, to the north, to be dealt with. Happily, Split appears to be highly amenable to a summit ski descent off its north apex today, promising Trevor and me great skiing all the way down to perhaps 9000 feet—a nifty vertical mile of turns!
Trevor and I unstrap our skis from our packs, buckle our boots, snap into our bindings. Check those buckles, tighten up the straps, give the feet a stomp. The snow on the north face today will be a mixture of wind drifts and scoured hard surfaces, with a liberal scattering of rocky patches to be avoided. But the angle is low and the view is great; time to have some fun.