Split Mountain — Page 6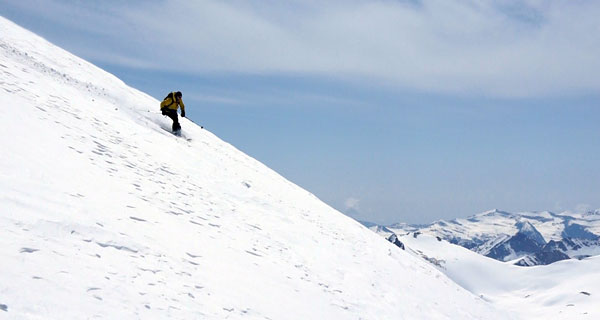 Skiing the North Face
How many of the Sierra's fourteen-thousand-foot summits permit us to snap into skis on good snow right atop the very apex of the mountain? That's a good question—one perhaps without a definitive answer.
Every year, the number is probably a little bit different. And there are a dismaying large number of Sierra fourteeners that stubbornly refuse to hold snow on their high points, leaving us to endlessly argue the minutia of what does and does not constitute 'skiing' a mountain.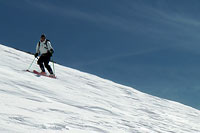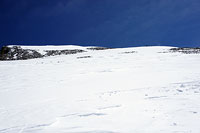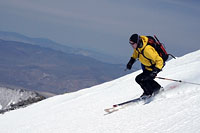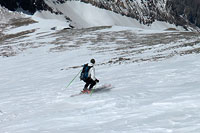 So it is indeed something special to see skis on my feet while poised on the very highest point of Split Mountain today. In truth, I hadn't been expecting it.
On the subject of skiing fourteen-thousand-foot snow, I suppose I should admit that you're likely to encounter highly variable conditions on the way down. Often, the snow will change textures and consistencies almost turn-by-turn, making for an always-interesting experience.
It keeps you on your toes, as they say.
My first turns begin on fairly crunchy ice, which quickly yields to softer but still smooth windboard. For perhaps a couple hundred feet, the snow proves quite tasty beneath my skis' edges, allowing me to speed up a bit and whoosh down the hill.
Farther down the ramp, however, Trevor and I soon encounter ice mixed with wind drifts. My ski sinks into one of the drifts and becomes an instant anchor, nearly wrenching me around.
Guess I'll have to pay attention here, after all.
Meanwhile, my attention keeps drifting westward of Prater Saddle. That saddle, I have to say, looks like a fine access point to dive deeper into the interior Sierra.
Okay, I know, I'm obsessing maybe a little too much about the inner range, but really, wouldn't it be cool to turn left instead of right at the bottom of this hill and just disappear (temporarily!) into that vast expanse of white-topped mountains? I'm telling you, some deeper backcountry forays are definitely in my future, plus at least a High Sierra crossing or two.
Then again, there is a lot of good skiing waiting for us to the east. Blue skies, calm winds, incomparable views, and good skiing in all directions That's the predicament we find ourselves in now, and it is indeed a happy one. Still, as Prater saddle nears, I take one last long look to the west before I make that right turn back to Upper Basin and Red Lake.