Split Mountain — Page 7
Upper Basin
In our enthusiasm Trevor and I ski a little too far down toward Prater Saddle, necessitating a bit of a climb back up to connect to our route down the headwall to Upper Basin and the Red Lake drainage.
Atop the Headwall, we eye the slope cautiously, considering its various elements—cornice, cliff, wind-loading—which together add up to a bit of a puzzle when it comes to finding a safe way down. The cliff in particular limits our escape options.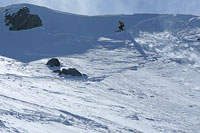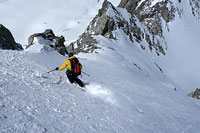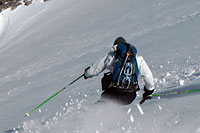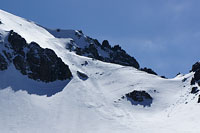 Our tactic is to trade exposures so as to always minimize the possible consequences of something going wrong. This makes for an interesting first few turns, as the perceived hazard constantly shifts, moment by moment.
The cornice initially looks the most alarming to me, especially in conjunction with the cliff, so I traverse toward the wind-loaded snow, but as soon as the cliff recedes, I'm back underneath the cornice to avoid the loaded aspect.
All these concerns probably look worse than they actually are today, but we're both in a conservative mood, not willing to push our luck—especially in regard to instabilities.
My thinking on safe travel in avalanche country is always evolving, to be sure, but presently my focus is on assessing consequences rather than stability.
Absolutely I always formulate an opinion on the snowpack's overall stability (mine today: generally bulletproof, with a few isolated slabs possible beneath ridgelines), but I don't ever want to give that opinion too much weight.
Instead, I tend to ask myself, if the snow slides here, what can happen to me? And I tend to try to put myself in places where the answer to that question is, not so much.
The hope with this strategy is twofold. First, that you are switching from guessing unknowable probabilities to the (hopefully!) more knowable potential interactions between terrain and snow. And second, that by always thinking about consequences, you are subtly conditioning yourself to be more conservative and more humble in the backcountry. That, as I say, is the hope, at least...
Below the headwall, I find the relative safety of a bit of a spine. Here I stop to wait for Trevor, who's been watching me above. An impressive plume of sluff cascades down beneath his skis as he leaves the ridge and traverses below. The top of the headwall is indeed steep, I realize. But we are both past this mini-crux now, ready to enjoy Split's wide-open slopes below.