Split Mountain — Page 8
Split Personality
I have written in the past of my sense that mountains can offer us the precious gift of clarity, but lately I have found myself as much perplexed when I visit the hills as enlightened.
This is not exactly a crisis of confidence—not exactly. Rather, it's that I find some of my beliefs changing, or, more specifically, I find I no longer believe some of the things I used to think were true.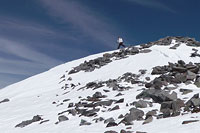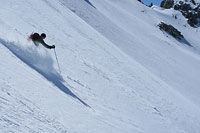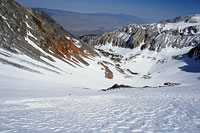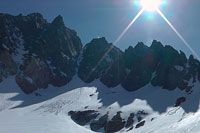 Beneath Split Mountain's arresting north ridge, I traverse under a massive cliff onto a north aspect that is blanketed in soft, creamy-smooth Sierra powder.
With a whoop, Trevor blows past me, a moving cloud of man and skis and snow, linking even turns down the face toward the expansive valley below.
When it's my turn I figure-8 Trevor's tracks, utterly lost in the euphoria of the moment: perfection.
At the bottom of the pitch I stop, turn back to look up, and just gawk in awe at the sight of it all.
It looks like a photo from a ski magazine, some distant far-away land of glisse dreams, and I know already this is the finest day of skiing I've ever had in the Sierra backcountry. Split Mountain is surely smiling upon us today.
Down, down, down, we go, the size and scale of the mountain utterly swallowing us as if we're not even there. We are tiny specs in this landscape, hardly even visible in our own photos of it.
Only our tracks seem to give evidence of our presence—yet our tracks, too, eventually fade in the distance, leaving the mountain as if untouched.
Such a perfect moment; such a perilous place. Some would argue that danger is the most important component of the human experience in mountains, that it is risk that makes us feel alive. But I cannot agree. To me, it is so much more than that, more, even, than skiing's incomparable dance with gravity and snow. To me, it is entirely about life, not death.
And so I keep coming back to these mountains, trying always to bring as much respect as I can, and to visit on their terms rather than my own. But it's not safe, I know, and that bothers me. To try to make my life safe, I could choose to never return to the mountains again, but that would only guarantee that something else would get me. That's not exactly clarity, and it's certainly not a license to take foolish risks, but it does seem to suggest the foolishness of trying to avoid risk altogether...