Skiing Palmyra Peak — Page 2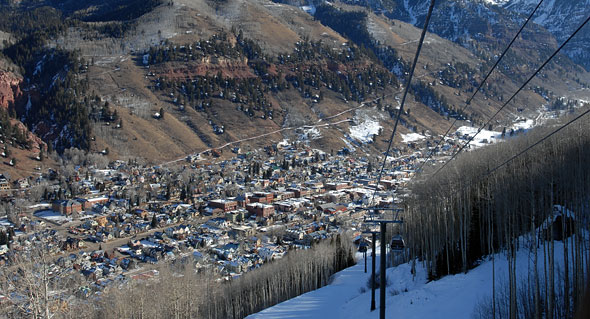 Split Personality
We might not have seen change coming, but others in and around Telluride clearly did, and that set off a conflict that would last for decades.
To residents of the tiny town of Telluride, it was becoming evident they'd found a Shangri-La of sorts. Telluride offered world class skiing, ice climbing, and mountaineering without the high prices and pressures of a megaresort growth curve.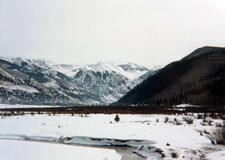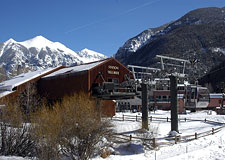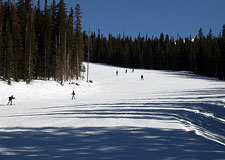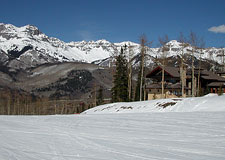 But there was more to it than just that. A home-grown, funky culture was blossoming in Telluride. It wasn't just the usual Bohemian experiment: it actually seemed to be working.
To many residents who loved Telluride, it was clear they'd found something special—and something fragile.
Something worth protecting.
A few years after my first visit, I returned to Telluride for a college ski trip. The mountain had added a few chairs and realigned a few others.
They had also begun aggressively grooming some of the resort's steepest town-side runs.
The impact was huge. Adding groomed expert terrain was a stroke of genius that more than compensated for Telluride's lack of groomed blue runs.
And even that deficiency was in part corrected with Chair 10, a lengthy high-speed quad that opened up miles of beginner and cruiser terrain.
Chair 10's greatest impact, however, had little to do with skiing. The lift opened up a vast resource critically absent in Town: land.
While the town of Telluride was engaged in a fierce war with developers over the future of the wetlands at the valley's entrance, Chair 10 in one master stroke rendered the argument moot.
The billionaires' mansions and resort hotels would come to Telluride after all—but they would be built on the opposite side of the mountain. Thus was born Mountain Village—the town's posh alter ego. It was a victory of sorts for both sides. Town residents managed to stave off the explosion of development they feared would destroy their community—at least, within the Telluride valley's walls. And developers at last got to cash in (hopefully) on Telluride's rich potential as a destination resort.
Before the town and village's schizophrenia became too pronounced, the town wisely invested in a free gondola which made for an effortless commute between the two sides. In practice, the gondola—and the split—proved to be a relatively elegant solution. Both Telluride Town and Mountain Village benefited from the other's existence without losing their own specific identities.
Ultimately, there was no question that change—and growth—had arrived in Telluride, both on and off the mountain. No one was going to confuse the ski area or its split community with Vail, or Aspen, or Snowmass, but it was clear the genie was out of the bottle. Skiers and residents had ample reason to be both excited and apprehensive as to what was going to come next.