Skiing Palmyra Peak — Page 3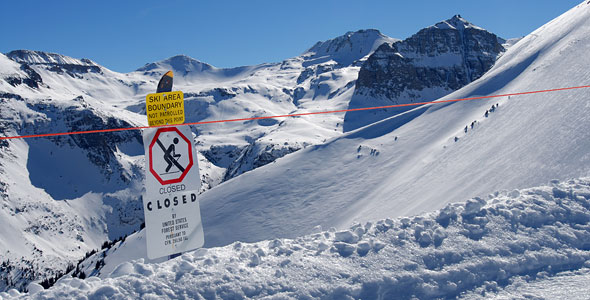 The Telluride Backcountry
Despite the changes taking place in town and Mountain Village, one thing in Telluride remained the same: the ski terrain was relatively limited.
For in-bounds skiers, Telluride was a big mountain that somehow felt small. Unlike other Colorado resorts, you could easily blow through most of the hill's runs in a day—even a morning. There was the town side, the village side, and Chair 10.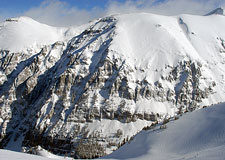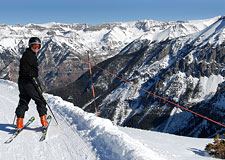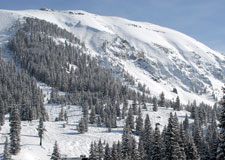 There was also the huge expanse of backcountry terrain beckoning just beyond the resort's boundary, but Telluride's backcountry was a story in itself.
For those who knew how to access it, the San Juan backcountry was about as wild as it got in Colorado.
It was also dangerous, and, from the perspective of liability-conscious government and ski resort officials, much too easy to get to from the resort.
Telluride's entire east face was closed terrain.
From the top of the well-named See Forever ski run, countless tempting chutes dropped just beyond the orange rope into the glorious but cliff-banded Bear Creek Canyon.
It was obvious, looking down these plunging elevator shaft lines, that these were not chutes for the average resort skier, but that didn't seem to stop people from getting killed trying to ski them.
And thanks to Telluride's shallow, ill-tempered snowpack, much of these northeasterly lines offered hair-trigger avalanche danger throughout the season.
Telluride Patrol and the Forest Service responded with an aggressive policy of closure.
Even during our 1983 visit, it was obvious that Telluride was exceedingly conservative when it came to opening terrain.
Too conservative, in our young opinions. We could forgive them—maybe!—for the Bear Creek closures. We were young, but we weren't that stupid. But in the opposite direction, the equally glorious Prospect Bowl and Palmyra Peak were also closed, and that seemed downright ridiculous.
Yes, as I returned year after year and grew a bit more seasoned, I came to notice the perpetual fracture lines and slide debris that decorated Gold Hill.
But it remained hard to fathom why one unstable ridgeline kept so much intermediate and expert terrain off-limits. Yes, Telluride eventually opened (occasionally) a backcountry access gate, and even a few limited hike-to skiing opportunities from Gold Hill. But the original problem remained: skiing Telluride, I found myself looking at achingly-near out-of-bounds terrain that begged to be skied, but remained stubbornly closed.