Skiing Palmyra Peak — Page 4
The Prospect Expansion
Between 1999 and 2001, Telluride entered another period of expansion, spurred by a change in ownership. Sony executive Joe Morita became a majority share holder, and he infused the resort with cash.
The rumor was that Morita had fallen in love with Telluride and wanted to turn it into his personal playground, cost be damned. True or not, it is a revealing story. In terms of the bottom line, Telluride was surely never a ski resort that made a whole lot of sense.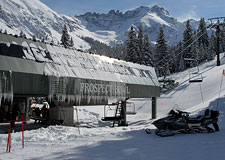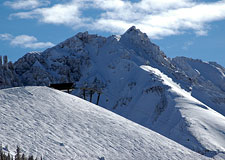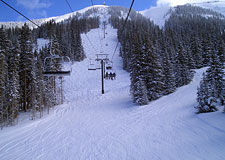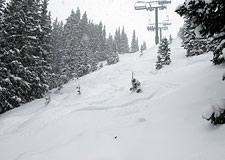 One of the resort's signature qualities is its striking lack of crowds—even on weekends. That might delight weekend skiers, but it hardly makes investors happy.
To round out its patchy on-hill experience, Telluride absolutely needed a big influx of cash.
But who would be crazy enough to spend it? It was impossible to imagine an effective return on the investment.
Whatever Morita's motivation, his money helped correct two of Telluride's most glaring lift deficiencies, by replacing the awful Village and Palmyra Lifts with high speed quads.
Next came the most significant expansion of skiable terrain in the resort's history: the addition of the Prospect and Gold Hill Quads.
The Gold Hill Quad sat right in the middle of Telluride's on-again-off-again hike-to terrain, opening the heart of it to lift-served skiers.
In one fabulous five minute ride, the Gold Hill Lift boosted skiers 1500 vertical feet to the 12,255' top of the ski resort, from which they could drop numerous double blacks 'till their legs fell off, or retreat and enjoy the scenery en route to the Village via See Forever's rolling blue terrain.
With Gold Hill open, even on powder days, the face of Telluride had changed yet again.
And for once, there was now a bit of a happy dilemma when new snow fell and it was time to choose where to ski. Gold Hill gave Telluride skiers a new-found abundance of options. Riding up Palmyra Peak's northwest ridge was the brand-new Prospect Lift. Here, skiers found a wealth of much-needed intermediate terrain tucked right underneath Palmyra Peak's imposing north face. It might have seemed impossible, but the Prospect Lift significantly boosted Telluride's already spectacular views.
Many skiers—myself included—hop off the end of the Prospect Lift and find themselves thunderstruck by the overpowering presence of Palmyra Peak towering above. It is a sight unlike anything else in Colorado, made all the more intense by the sheer proximity of the Peak's serrated ridges and fluted buttresses.
When my family and I returned to Telluride to ski the new terrain opened by the Gold Hill and Prospect Lifts, it felt much as if we were visiting for the first time. As a ski resort, Telluride had at last realized its potential. The mountain had arrived.