Skiing Palmyra Peak — Page 5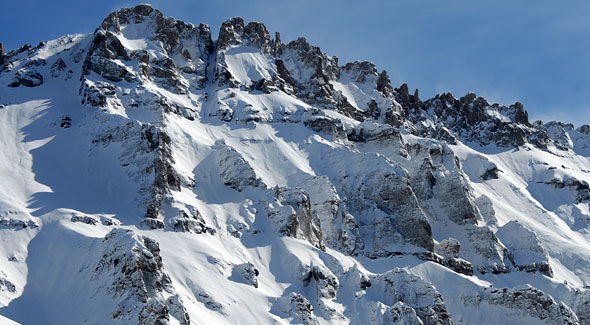 Palmyra Beckons
Given Telluride's history of closing avalanche-prone terrain—and keeping it closed—it wasn't surprising that Palmyra Peak was off-limits to skiers.
Yes, resorts were rushing to open challenging terrain to attract 'Freeride' customers. But Palmyra Peak was not the usual American dabble in steep skiing. In all directions, Palmyra offered exactly the sort of cliff-bound terrain that got ambitious skiers killed with clock-like regularity in France's Chamonix Valley.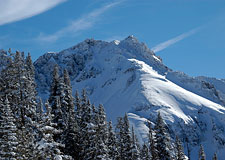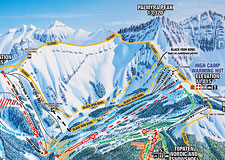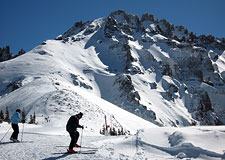 Add to that the peak's significant avalanche issue, which could threaten intermediate and beginning skiers in Prospect Bowl below, and you had a potential liability nightmare.
Surprisingly, plans did exist to open Palmyra Peak to skiers as part of the resort's controlled terrain.
Still, skiers had reason to be skeptical.
Many resorts offer big expansion promises that never seem to materialize.
But more than that, it was difficult to believe that a resort as historically conservative as Telluride would ever open such radical, next-generation terrain.
Even for perpetual dreamers like myself, it seemed just a little bit too much to hope for.
After all, in terms of in-bounds skiing, there was really no precedent in North America for anything comparable to Palmyra.
If anything, the most likely possibility was that Telluride would 'open Palmyra' by permitting limited access to the peak's lower terrain. And, eventually, that's exactly what happened. The Prospect Expansion allowed a tiny chip of skiing off Palmyra Peak's northeast ridge, in the form of a few very short, hike-to expert lines—Confidence, Crystal, Genevieve.
A few long years later, access to the excellent skiing beyond these runs—the Mountain Quail Couloir and Black Iron Bowl—was opened, but only to 'guided' parties. That allowed Telluride to claim that Palmyra Peak was open for skiing, but only in the most limited possible sense, and only if you were willing to pay a steep fee on top of your already-pricey lift ticket.
Telluride repeated the 'New Palmyra Terrain' mantra in preparation for the 2008 ski season, but by this time, it was beginning to sound to me like the boy who cried wolf. I looked over the 2008 trail map and saw a 'closed' line that looked to be in the same place as always. The best I figured I could hope for was that the annoying Guide-Only requirement had been dropped. Otherwise, I expected the Palmyra story would remain the same.