Skiing Palmyra Peak — Page 6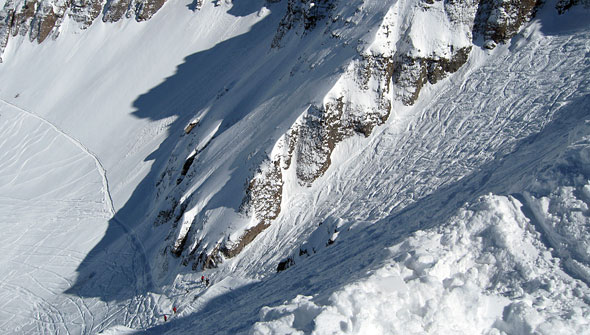 Black Iron Bowl
It's easy, looking at a 2008 Telluride trail map, to dismiss Black Iron Bowl as a trivial addition to the mountain's in-bounds terrain.
That area had never particularly been on my radar. To the best of my recollection, Black Iron Bowl was pinched between an intermediate run and a cliff band, and consisted primarily of a dreary gully funneling back to the Gold Hill and Prospect Lifts.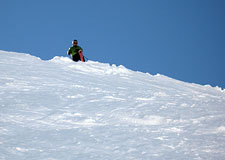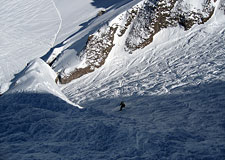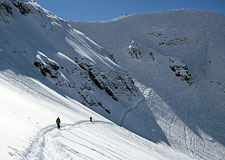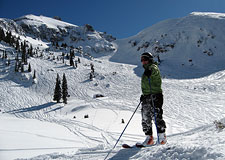 So when I heard Telluride was claiming they'd opened Black Iron Bowl and (once again) Palmyra Peak, I was curious to see what, exactly, was new.
But my expectations were somewhat diminished after years of Telluride teasers. I certainly didn't bother bringing any climbing or backcountry gear.
In retrospect, Telluride's new additions change the face of the resort so much it takes time to get used to them.
When my brother and I arrived in town for a visit, we couldn't have picked a better time.
Standing in line at Chair 9, I overheard a ski patrol joking he'd have to retire—because conditions were never going to be this good again in his lifetime.
2008 brought both record snowfall to Telluride and a remarkably stable snowpack—a dream season for opening up new terrain.
We arrived on the eve of a storm that dropped a foot and a half of dry powder across the upper mountain.
Magically, the storm was almost devoid of wind, leaving only smooth, slabless snow that was the delight of skiers and patrol alike.
Black Iron Bowl was open by 10:30 a.m.
It's funny to say, but we were almost reluctant to make the trip over to the Prospect Lift and hike up to Mountain Quail. Skiing was so good elsewhere on the mountain that hiking to unknown terrain seemed almost like a bad bet. It didn't take long, however, for my brother and I to realize we were about to drop in to some of the finest powder terrain we'd ever skied.
How good is Black Iron Bowl?
Call it helicopter skiing without the chopper. A healthy 450 vertical foot hike (about 30 minutes) got us to the top of 'Mountain Quail', the oddly-demure name for the steep, broad couloir that drops into the heart of Black Iron Bowl. From the top of the couloir, I stared down at the spectacle of untracked glory below as if it were a mirage.
In that moment, I was no longer in Telluride. I was in a skiing fantasy land where even my wildest dreams were beginning to seem modest in comparison. Untracked resort powder as far as the eye could see! Huge, gorgeous lines plunging down through some of the most scenic terrain imaginable.
We dove in and chased each other down the mountain. It was overload, pure and simple. Did anyone else in Colorado know about this?