Skiing Palmyra Peak — Page 7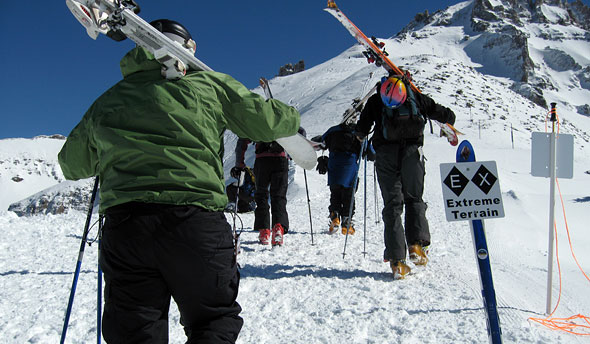 Climbing the Ridge
Palmyra Peak is open. I'm in Alpine gear and I don't even have a backpack, but I'll carry my skis to Hell if I have to for a chance to ski this peak.
Moments like these are rare in life, I find. History is on my mind as I ride the Prospect Lift to the start of the hike—over twenty years of skiing Telluride and dreaming of this very day, right now, right here. I try to quash fears the gate will close early.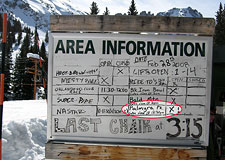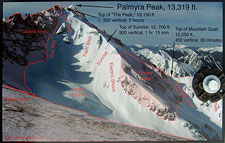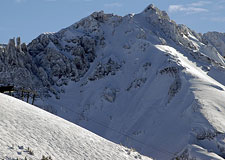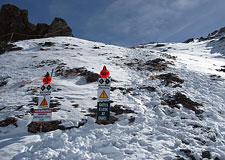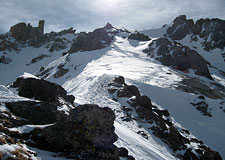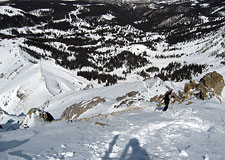 Just get me to that gate on time, I pray. Give me my chance. No one wants to climb this mountain more than I do today. At the top of the Prospect Lift is a big sign marking the various routes down Palmyra Peak.
Call it a road map for radicals.
According to the sign, the climb is 1350 vertical feet and two hours—if you want this, you'll definitely have to earn it.
And that climb is perhaps big enough to help weed out those whose ambition outweighs their judgment.
I kick-step my way past a gaggle of skiers en route to Black Iron Bowl's earthly delights.
When I reach Mountain Quail, I'm the only one continuing higher, and the gate to Palmyra Peak—thank god!—is open.
Now, before we begin, maybe we should take a little reality check.
I'm in my alpine gear here: heavy Lange L10 Racing boots and Atomic R11 skis draped over my shoulder.
Aside from my stylish Smith Factor sunglasses, at the moment I'm not especially well equipped for big mountain adventures.
Up ahead is 1350 vertical feet of climbing up an exposed high-altitude ridgeline, some of which entails a least a smidge of dicey rockwork.
There is no gatekeeper here—no one to tell you you're not geared up properly, or fit enough, or crazy enough to ski this kind of terrain.
You'll have to make that decision yourself.
My take: don't try to start your adventure ski career here.
There are plenty of steep thrills to be had on Mountain Quail and Black Iron Bowl below, and there's plenty of danger to be found as well, if that's your game.
As an added bonus, Telski Patrol will have a much easier time picking up the pieces if something goes wrong.
In any case, retreat is a poor option above.
Once you start climbing, you will soon be committed. Up the spine I go, finding patchy coverage on loose, rocky ground as I work my way up the spine of Palmyra Peak's northeast ridge. Crampons would be nice here. So would my A/T boots and skis—and especially a backpack to carry them.
My trusty but very hefty alpine boards are printing deep bruises on my shoulders, with much more climbing to come. I time my breathing to my steps and push the pace a bit, trying to catch a group of skiers far ahead.
As I gain altitude, the sense that I am in or even near a resort vanishes. In fact, if I feel alone up here—which I do—it's because I am. Soon, there's no one else in sight, just majestic views of strikingly sheer rock and snow, and the immense sweep of the valley below.
As a backcountry skier, I'm used to solitude. But the abruptness of this transition from managed resort to untracked wild is a little disconcerting. It's hard to fit this experience into my (prior) conception of Colorado resort skiing. By at last expanding to include Palmyra Peak, Telluride has elevated itself to a level of skiing previously unknown to major North American resorts.