Skiing Palmyra Peak — Page 8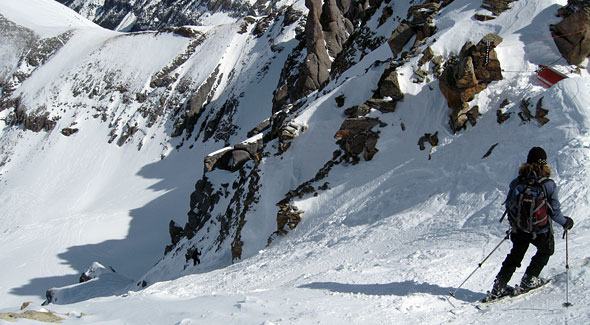 Elevation
On their own, either Palmyra Peak or Black Iron Bowl would have been transformative additions, but it is Palmyra that makes the boldest statement.
When I crest the northeast ridge, I find the final few steps to Palmyra's summit are closed, preventing an exact summit ski descent. I deduct the appropriate amount of style points, but the meter remains pegged. Hyperbolic adjectives flow steadily through my head as I contemplate my unlikely perch.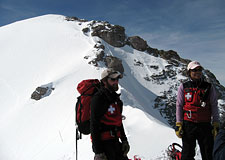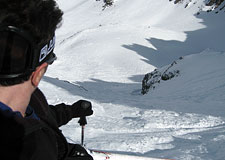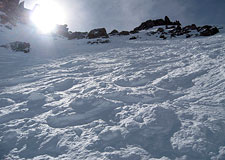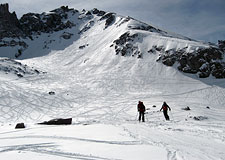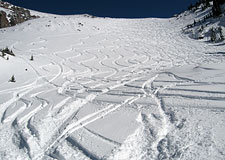 From the top of the Prospect Lift, elevation 11,815', it has taken me exactly 50 minutes to reach the top of 'The Peak'. As a sea-level Californian (currently!), I feel satisfied I've done an adequate job representing the West Coast.
Self-satisfaction aside, it's time to examine the options.
Essentially the entire northeast face of Palmyra Peak is open for skiing. The main route drops right down the middle, steep enough to roll out of view, big enough to give me the jitters.
It's therefore comforting to discover the climbers I've been chasing up the hill are two Telluride ski patrollers.
I stop for a quick chat.
First I have to congratulate them on their mountain's glowing new addition. It's obvious they're every bit as excited as I am.
Telluride tries to keep patrol teams continuously rotating through the new terrain. In practice, that means help is never too far away, though it's by no means immediate. Telluride hopes to keep Palmyra open as regularly as its other hike-to areas, conditions permitting, rather than as a rarity.
That would be nice—but it's also far from certain.
I think it's fair to say that Palmyra Peak is an experiment of sorts. The work involved in assessing and controlling this vast, steep peak's terrain is no doubt considerable.
And the stakes are high.
One could easily imagine a few high-profile accidents or mistakes occurring here that would soon convince the powers-that-be that keeping Palmyra open is more trouble than it's worth.
Or perhaps what will undo Palmyra will be the snow. A few bare or sketchy seasons could be the end of the experiment as well.
And so, as I drop in for the very first time, I do not take for granted that this will be a regular part of my Telluride visits from now on.
Crust bits and powdery sluff cascade down around me as I make cautious turns on the steep upper headwall.
The pitch is steep—around 45°—and quite sustained all the way down to the cirque some thousand vertical feet below. The quality and depth of the terrain is mind-boggling. Over the years, Telluride has become masterful in tailoring itself to match its skiers. It is possible for beginners, intermediates, and experts alike to believe the mountain was made especially for them. To that list you can now add the ski mountaineer, for Telluride has looked far beyond the interests of the typical resort expert with the Palmyra addition.
When I enter the cirque, the terrain opens up into a broad expanse offering untracked powder in all directions. This is effortless, intermediate terrain, a fine treat after the 'EX' rating above. I stop, along with the ski patrol I've been shadowing, to survey the vast snowy peak behind me.
It will take time, as I've said, for word to spread about Telluride's new additions. Hearing about it, people will naturally assume it is not much different from what they've found at other resorts. That's probably okay with the locals. If you're meant to be here, you'll find your way. If not...well, there are plenty of other ski areas to choose from.