Skiing Palmyra Peak — Page 9
The Milk Run
And so we come to that part of the story that I hate most of all: the end. For me and my family, this year's wonderful week at Telluride is almost over.
I find my annual trips to Telluride have become a sort of giant clock, ticking off the passage of another year with inarguable finality. Once upon a time I took for granted that there would be an unlimited supply of ski vacations to look forward to. Now, alas, I know their number is limited.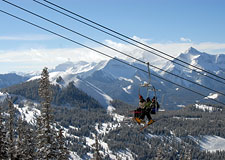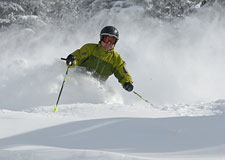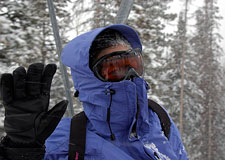 The Gold Hill Lift whisks me to the top of Telluride for what will be the last run of the day. We'll take See Forever to Milk Run to town, and then it will be time to pack up for the long road home.
The upper part of See Forever tracks the ridge atop the mountain, offering signature views to either side of the divide.
From the upper narrows—a catwalk, really—See Forever merges with Chair 9's traffic, becoming a freeway of rolling, open terrain perfect for ratcheting up the speed.
The wind rushes in my ears as I carve big GS turns down the face, then tuck my arms back for the flats through the trees ahead.
Is there time to make a last ride up Chair 9?
Probably not. I speed past the Lookout sign and race down See Forever's open section above the Gondola. Watch for the slow signs at the bottom; burn off that extra speed before the merge.
I cross under the Gondola to Milk Run—my favorite pitch on the mountain. If you ask me, catching Milk Run groomed first thing in the morning is about as good as life gets on skis. Now, the run is chopped and melted, so I shift to slalom turns, using my hips to push those edges into the hill. Town is getting closer. I take the lower part of Telluride Trail at the merge, entering the last funnel before the final pitch of the day, where I stop to survey the town of Telluride below.
Much has changed since my 1983 visit, in ways both good and bad. As a ski resort, Telluride has unquestionably found the missing pieces of its quirky puzzle, but for locals especially, the shift from aging mining town to world class resort has not come without a price. Still, the magic of the place remains intact, somehow.
I push through the last bit of skiing to the bottom of the hill, skid to a stop at the base of the Gondola, pop off my skis, and just like that, the giant arm of my Telluride clock shifts another notch. Will I be back next year? I sure hope so.