The Opening of Palmyra Peak
Telluride Redefines the Boundary of North American Resort Skiing
TELLURIDE, COLORADO — I am standing on Palmyra Peak's summit ridge with two Telluride ski patrollers, and they seem every bit as amazed as I am to be here.
From our perch at 13,150 feet, we can see deep into the vast high-altitude cirques and spines of the Telluride backcountry—Lena Basin, San Joaquin Ridge, Bear Creek Canyon. But we are not chasing backcountry turns today: we are here for in-bounds, avalanche-controlled skiing. Palmyra Peak is open for business, and the magnitude of that reality takes our breath away.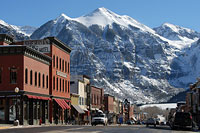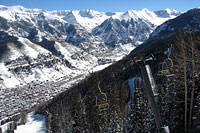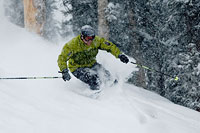 'Quirky' is a word that pops up again and again when people try to describe Telluride. Unlike the majority of Colorado's megaresorts, Telluride was built for miners, not skiers.
Telluride began as a mining boomtown—by all accounts a hell-raising place where miners toiled in the treacherous hills above and spent their meager wages in the abundant brothels below.
When the mines eventually dried up, the town shrunk to near-extinction. Then, in the 1970's, hopeful locals persuaded an entrepreneur to put in a few ski lifts.
If anyone was expecting sudden prosperity ala Vail or Aspen, they were surely disappointed. The shady, heavily-forested north slopes over town were much too steep to build the green and blue groomers so beloved by Colorado resort skiers.
Additionally, Telluride's southerly latitude made for a quirky, cranky snowpack. Coverage was typically poor during the critical holiday weeks, and avalanche danger typically high all season.
And then there was the issue of access: it was easier to drive to Telluride from Phoenix than it was from Denver, which effectively separated the ski area from its most important market.
Liabilities like these would easily have sunk most ski resort ventures. But while Telluride didn't conform to the usual Colorado template, it did offer things the rest of the state could not begin to match—like the Plunge and the Spiral Steps. When my family and I drove to Telluride from nearby Flagstaff Arizona in 1983, the two runs were already legendary for their big vertical and their steepness.
My brother and I might have been kids, but that didn't stop us from heading right for the top of the mountain to test ourselves against the very best Telluride had to offer. It took an abominably-slow four chairlifts to get to the top, but skiing the Spiral Steps for the first time that year was undoubtedly one of the formative events of my young ski career.
In addition to expert ski terrain, the young Telluride resort's other signature quality was its unequaled views. Set deep in the confines of a box canyon within Colorado's San Juan Mountains, Telluride evoked the grandeur of a tiny Alpen village rather than the more austere landscapes of the state's Central Rockies to the north.
Still, after a week of skiing, we were ready to go home. Even young chargers like my brother and I got tired of the resort's bump-heavy terrain. And riding four lifts to get to the top grew progressively more annoying with each day. The views were glorious, yes, but staring at all those fantastic peaks and couloirs just beyond reach took its own kind of toll.
Day after day, it only served to reinforce exactly how incomplete the mountain was. If you were a skier, you could see in Telluride the outlines of a potential resort almost too wonderful to imagine. But who would ever build it? Telluride seemed firmly fixed in its quirky blend of potential and problems, and in 1983, we saw nothing to suggest that would ever change.