Tyndall in a Day — Page 2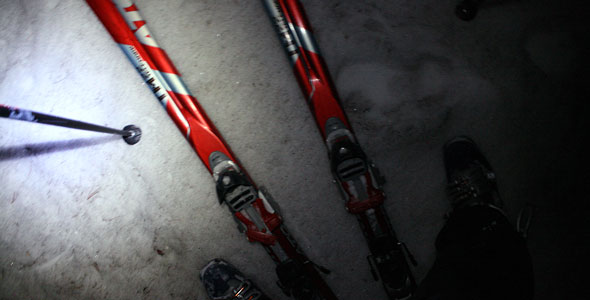 Darkness
My 'day' hike begins in darkness at the Shepherd Pass trailhead, elevation 6300'. I hope to return in less than 24 hours, thus qualifying—technically—as a day's effort.
One week ago, I started hiking at midnight. To give myself a better chance at success, I'm leaving even earlier this time. In consequence, I will not see a hint of the sun for nearly eight hours. That I am here at all, rather than tucked safely away in bed, is a testimony to the potency of the forces motivating me.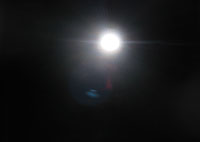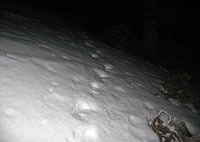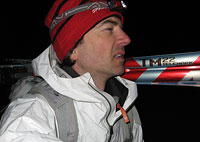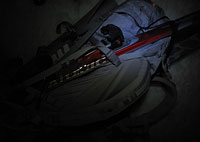 Despite my slow pace as I tromp through blackness into the lower Symmes Creek drainage, my heart is racing.
I am afraid of the dark.
Alone in the woods at night, I am afraid of rogue bears following just beyond my headlamp's glow, of ghosts and goblins, of mute bulbous-headed aliens looking for test subjects.
And this is just the start...alone in the deep woods at night, my mind whispers of other, grimmer dangers—of unstable lone wolves with high-powered rifles skulking about these foothills at night looking, just looking, for something interesting to play with.
Trying to cope with this crawling sense of being stalked is...challenging. I fight the impulse to speed up, as if by suddenly taking flight I could leave my fear behind.
Noises in the brush nearby make me jump.
I glance wistfully back at the eastern horizon, knowing I will see only darkness there for hours.
To save weight today I am carrying only one liter of water, plus energy drink powder.
I will refill twice (untreated) at a tributary source I scouted a week ago. Also, right before leaving my car, I drank a liter of Gatorade.
Other Round Two strategy changes including beginning the hike in hiking boots (instead of ski boots), and carrying my gear in an overnight Alpine pack to better manage the load.
Mentally, I rehearse the route ahead. I'm hoping the trail will be dry to Symmes Saddle, rather than forcing me to make a temporary switch to ski boots. After that, there is the long traverse to Mahogany Flat, where I'll start ascending on skis—in the dark. Good thing I've got ski crampons. Beyond that lies Shepherd Pass. I expect the sun will appear around there. If only I could fast-forward to get there now!
There is so much distance and vertical and effort above me, the sheer thought of it is overwhelming. Perhaps it's best to focus the mind elsewhere: on my breathing, for example, or the steady crunch of my boots on the dark gravel of the Shepherd Pass Trail.